NJ Sports Betting Online
Sports betting has been legal in New Jersey for over two years now, with more than 16 online sportsbooks taking bets from residents. With so many options available, it can be difficult to know which NJ sports betting app is best. However, we have the information you need to make an informed decision. Here are our updated NJ online sportsbooks ranking as of 2023.
Published: Jan 14, 2023
Updated: Jan 30, 2023
Best NJ Sports Betting Sites
Best NJ Sports Betting Sites and Apps
DraftKings
DraftKings is one of the leading sports betting providers in the US, and it successfully operates on NJ market. The sportsbook has been in business for more than four years now. New players get $25 for free as welcome bonus, and they have a chance to get deposit bonus 20% up to $500. This site has a solid reputation, so security is on a high level, so private information of users is protected. DraftKings offers various kinds of banking methods such as credit or debit cards, PayPal and PayNearMe.
FanDuel
FanDuel is another popular NJ sports betting provider. Ever since New Jersey opened its doors to mobile betting apps, FanDuel has worked to become one of the most favorite sportsbooks in the US. It offers a wide range of daily fantasy games since its formation in 2009. The most important thing about this site is that they offer $500 risk-free bonus for newcomers to help them to start playing. However, the site does not offer loyalty programs for players, but it has FanDuel Players Club for clients who are interested in daily fantasy sports.
PointsBet
Apart from the regular betting features, PointsBet also offers high-rewarding risk factor games. This site is reliable and secure to use, as it is owned by Australian company with s positive reputation. For newcomers the site offers two risk-free bonuses up to $100 each. Also, it is famous because of its strong loyalty programs for regular players, as the site provides customers with the opportunity to collect points for each bet, so later they can transfer it to real money to use for future plays. The site has apps for both IOS and Android platforms which are easy to use, so customers can play any time they want.
888 Sport NJ
888 Sport is one of those new online sportsbooks that rushed into the wagering market when New Jersey legalized online betting. 888 Sport is quite a popular name in the UK. it offers a wide range of betting excitement to its players. This site welcomes new players with bonus for the first bet up to $500. Also, it must be considered by the newcomer that this betting site does not provide standard loyalty programs but it offers various challenges to complete it. When the player completes the particular weekly or daily challenge, the customer can get bonuses to use them for next games.
SugarHouse
SugarHouse is popular sports betting arm of Rush Street Interactive. The sportsbook is quite well-known, as it has a partnership agreement with European company. This is an online sportsbook of choice if you are looking for a straightforward bonus and quick deposit methods. It offers 100% match for the first deposit up to $250. Also, it has VIP club for regular customers, and they can get some benefits from this program, but it also does not offer loyalty programs with additional points and bonuses for customers.
BetStars
BetStars is the sister of online poker website – PokerStars. While it is relatively new to the world of online sports betting, it became a close contender to the #1 spot against the giants of the European sports booking industry. This sportsbook platform features a lot of top-notched integrations and account management characteristics. This site offers to clients a wide choice of withdrawal methods, as they support almost all of existing ways to get your money after winning or deposit money for future games. Also, newcomers get a great opportunity to use the bonus $500 for the first risk-free game.
Resorts NJ
Previously hosting as only an online casino, Resorts decided to expand into sports betting in 2019. It is one of the newest online sportsbooks that have a high ranking due to its extensive quantity of betting options. The site provides newcomers with the bonus for risk-free game up to $250. Also, it has a great loyalty programs and VIP clubs for regular customers, so you can collect points to transfer them into money for future bets. What is more important, the site has a wide choice of games and sports to make a bet.
Golden Nugget NJ
Golden Nugget stepped into the world of sports betting with its sportsbook. It is an interactive sportsbook that is very visually appealing. It offers a lot of convenient betting options. The sportsbook has the best security protocols. Along with the wide choice of games, newcomers get risk-free bonus for the first game up to $100. Also, it has a loyalty program which is based on the process of collection of additional points that players can get for their high level of activity. This opportunity is very important for those who want to get money for their loyalty and integration.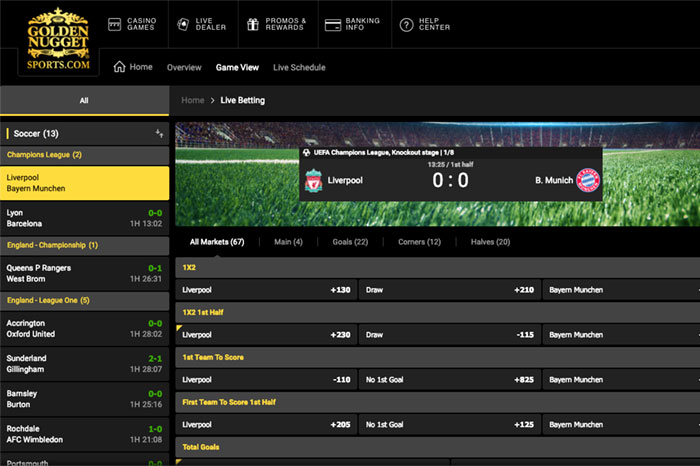 BetMGM
MGM Sportsbook was launched in 2018 for Android and iOS devices. The betting app is easy to understand and navigate. The app has been going through a number of improvements since its launch. The sportsbook offers a comprehensive wagering experience to online gamblers. Newcomers have a great opportunity to get the bonus for their first game, so they can use $500 for free-risk game. This site offers different kinds of sport to place a bet on, and what is more important the number of games is growing, and the site is constantly working on their improvement.
Caesars
Caesars is one of the top online sportsbooks in New Jersey. It was launched just before the 2018 NFL season. It is integrated with features that allow easy play and fast withdrawal and deposit methods. The software is intuitive and offers a lot of in-game betting options. Welcome bonuses for newcomers include 100% match for the first deposit up to $300 and $10 for free-risk bet. The interface of apps that can be found on different platforms are easy to understand and use, so the process of betting becomes more comfortable for you.
Hard Rock
Hard Rock Sportsbook is one of the newest online casinos that opened in the middle of 2018, alongside the actual Hard Rock in Atlantic City. The sportsbook offers hundreds of games. Welcome bonuses for newcomers include different options for those who want to deposit money and those who do not want to hurry with this decision. For the second group the site offers 50 free spins, even in the case if the person does not deposit money. Also, the site provides new customers with the opportunity to have 100% match for the deposit up to $1000.
BetAmerica
Launched in 2019, BetAmerica has expanded into one of the top online sportsbook sites today. The website offers a wide range of games and is a safe place to bet on online sports. It also offers numerous promotions. One of the most important thing about this site is that it offers 100% match for the first deposit up to $500. So, if you deposit $500 you will eventually get $1000, so it is a great opportunity on this site. However, if you do not want to spend money, you can play free games on this site, as they have wide choice for this option.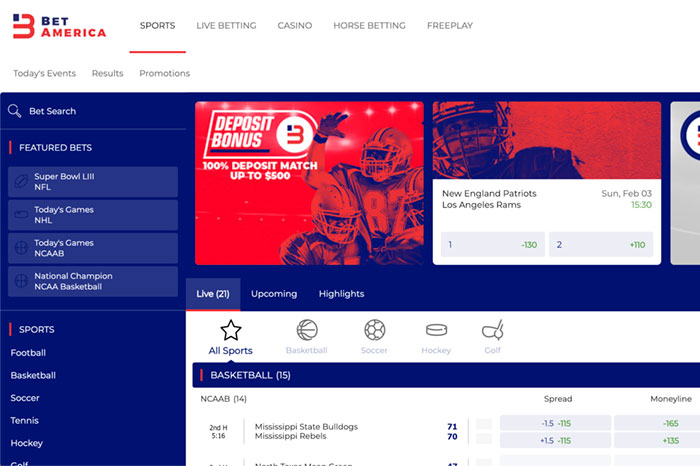 Here Is How We Figure Out Which Are The Best Online Betting Sites In New Jersey
New Jersey is home to many sports betting sites. We have reviewed each one of them considering different factors. These aspects include:
Welcome and No-deposit Bonuses

NJ sports betting sites have different bonuses upon registration. The range of rewards and bonuses depends on many factors, such as the amount of your first deposit or playing frequency. An online betting website should always offer reasonable welcome and no-deposit bonuses.
Security
Security is one of the most important aspects that should be considered while looking for a reliable online sportsbook. Yes, you have to submit a lot of private information, such as your name, address, contact details, and bank account. So, the website should use the best encryption technology to make sure this information does not land into wrong hands.
Banking
You always need to consider the banking methods employed by an online sportsbook. A good sportsbook have more than a single method of payment to make sure that online gamblers from different parts of the world can withdraw and deposit their funds without any problem. Solid sites offer electronic wallets, credit and debit cards, mobile apps as banking methods, so the player can choose the most convenient method of payment.
Loyalty Program
Loyalty programs are rewards given to regular players. Most online sportsbooks offer such rewards to keep their customers coming back for more. For example, some sites offer you free bonuses each week, so the player can get up to 35$ for free to play more. Also, for regular clients the site can offer the opportunity to double the reward in some cases.
Licensing Information
If you are interested in any online NJ sportsbooks, it is important to consider whether it is licensed and registered with a solid firm. The licensing information of the sportsbook is an indication that the site is operating and complying with the rules and regulations of the gambling industry. This information can be found on the website, but in some cases you should make a request to get the licensing number.
Customer Service
An online sports betting site should offer services that satisfy players. Good customer service helps to solve all problems of online gamblers fast and effectively. Usually, you can contact customer service through website or you can write an email to get the necessary information.
Various Sports
While choosing an online sportsbook, you need to check the number of sports available on it. It is better to choose the site with a wide choice of leagues, as it is not fun to bet on the same sports all the time.
Sports Betting Locations in New Jersey
Some of the places where you can place bets on live sports are:
The Borgata Hotel, Casino and Spa: The Borgata is located opposite to the poker room, formerly known as Racebook.
Bally's Harrah's and Caesars Casinos: This casino owns three properties in sports betting Atlantic City – Caesars, Harrah's, and Bally's casino.
Golden Nugget casino: Golden Nugget casino is located nearby Borgata.
Banking on NJ Online Betting Sites
Most of the sportsbook sites in New Jersey provide banking options like withdrawal or deposit methods like:
Credit and debit cards: Every sportsbook in New Jersey accepts debit and credit cards. However, since it is one of the oldest methods, it takes a lot of time for either withdrawing or depositing your funds.
E-wallets: All sportsbook offer e-wallet options. E-wallets are an electronic alternative to money orders, checks, and cash.
Pre-paid cards: Most NJ sportsbooks offer prepaid card. It appears within 48 hours in your account.
Pay by phone: Pay by phone is a comparatively a new payment method. So, you might not find a whole lot of online sportsbooks sites that use this method.
Currencies: Online sportsbook sites offer hard cash. But you need to deposit them online via options like PayNearMe for sending funds into their accounts.
NJ Sports Betting Online Tips
There are some tips that can help you win particular games on NJ sports betting online sites:
Set Achievable Goals: it is important to understand what you are more likely to lose than win, so make sure you set your goals in the right way..
Learn All the Basics: while sports betting is easy, you must take your time to learn the trades before you actually engage in the games.
Be Selective: choose the game that offers the higher chances of your winning.
Specialty Bets: some online sportsbooks offer specialty bets that come with unique bonuses and offers.
Sport Leagues to Bet in New Jersey
Football (NFL, CFL, NCAA)

Mixed Martial Arts (UFC)
Baseball (MLB)
Hockey (NHL)
Basketball (NBA, WNBA, NCAA, EuroLeague)
Soccer (MLS, English Premier League, English Championship League, others)
Boxing
Golf (PGA Tour, LPGA Tour, others)
Auto Racing (NASCAR, Formula 1, others)
Tennis (ATP, WTA)
The Academy Awards.
Betting Legally in New Jersey
New Jersey is the state, where everybody over 21 has a right to gamble and bet. Three years ago, residents and guests of this state got the right to bet even in the Oscar. Some restrictions, although, exist:
Gambling is an activity for people over 21

It is legal to bet only inside the state lines

Betting while being personally involved in sports (for example, coaches, officials)

If participants of sports events or elections are minors, betting is prohibited. 
Advantages and Disadvantages of NJ Online Sports Betting
There are some pros and cons of sports betting in New Jersey:
Advantages
There is a possibility to win a lot of money.
It is fun and entertaining.
Right from blackjack to straight-up poker, there are many different types of games you can play.
Disadvantages
There is a possibility of losing your funds. Odds are always against the player. So, there are more chances of you losing than winning.
The majority of players become addicted to gambling.
What Is Happening With Sports Betting In New Jersey Right Now?
The casinos, horse tracks, and online gambling outlets in New Jersey won $470.6 million from gamblers in August, which is more than 10% higher than what they won a year ago.
FAQ
Is online betting legal in NJ?

A lot of people ask this question – when will sports betting be legal in NJ? Little do they know, online betting became legal in New Jersey in 2010 when casinos in Atlantic City got the right to operate legally online. New Jersey legalized online gambling in 2013.
What are the best NJ betting sites?

The top-rated are PointsBet, DraftKings, PointsBet, Golden Nugget, and Hard Rock.
Do you have to live in NJ to wager online?

It is not necessary to live in New Jersey to be able to gamble online. You can gamble from any part of the country.
Do you have to be 21 to bet on sports?

According to the law, you need to be at least 21 years of age to bet on sports.
How do I place a bet online?

Wagering is very easy. First, you need to create an account on the online wagering site and deposit some money. Then, you have to find the sport you need to bet on. Finally, enter your wagering amount.