BetAmerica New Jersey
Published: Aug 10, 2022
Updated: Nov 9, 2022
$100
Pros
+

Free no commitment test of the site and it offers
+

Casino games and sports wagering options
Cons
⨯

Not recommended for Dolphin browser
⨯

Few banking options
Screenshots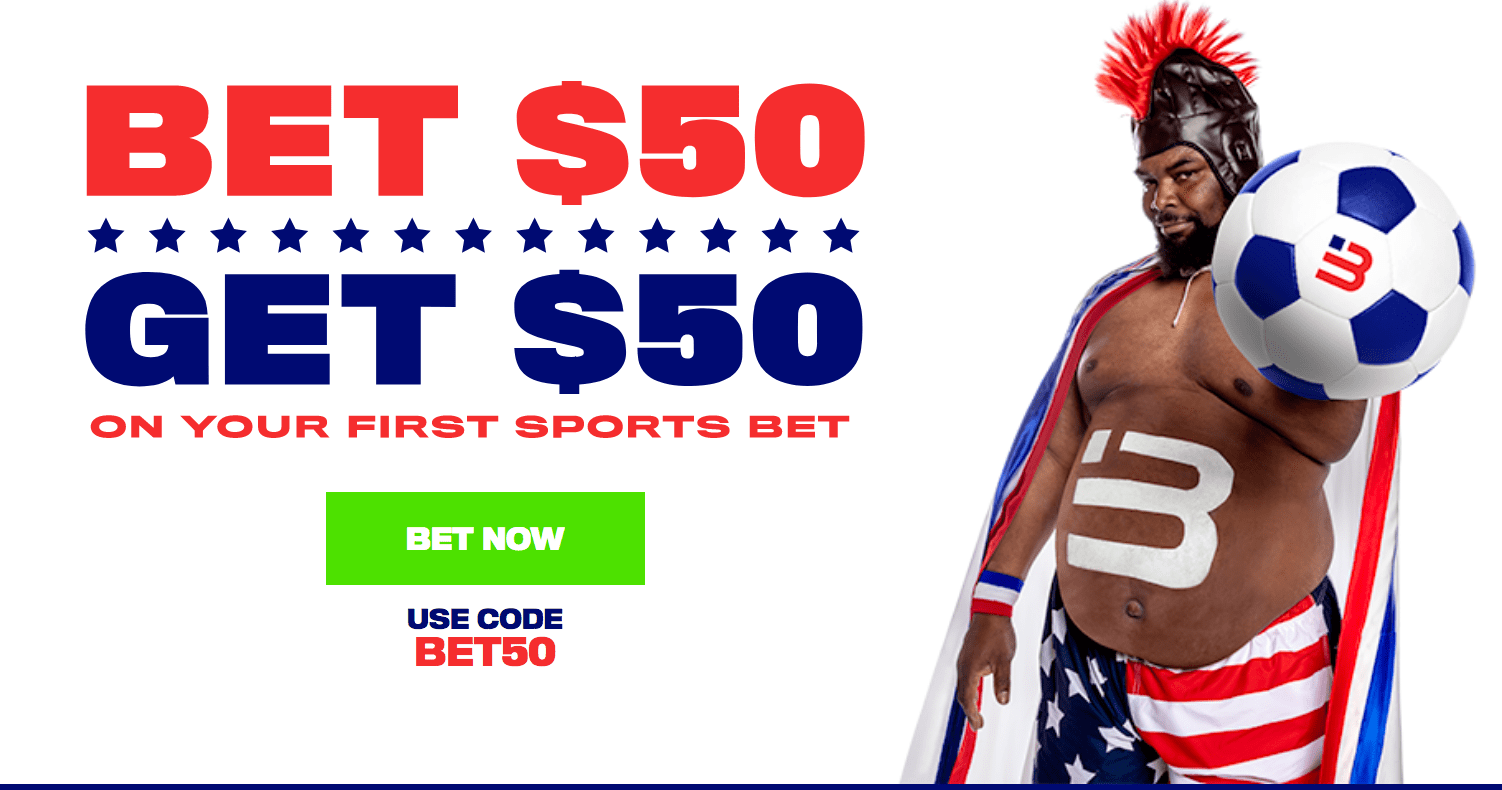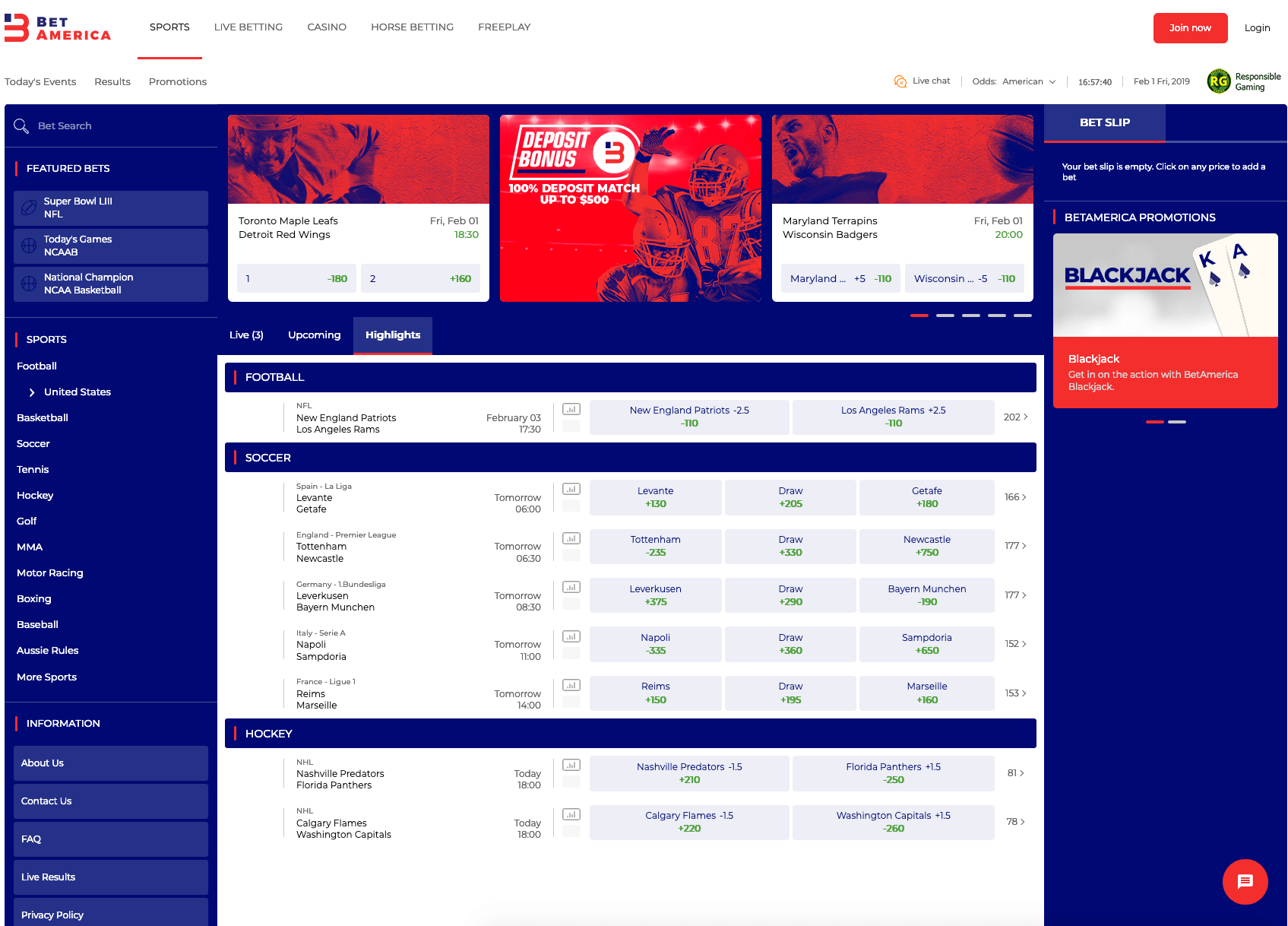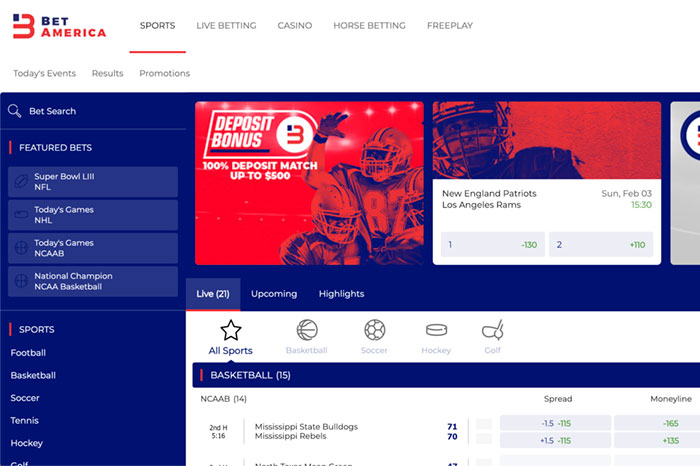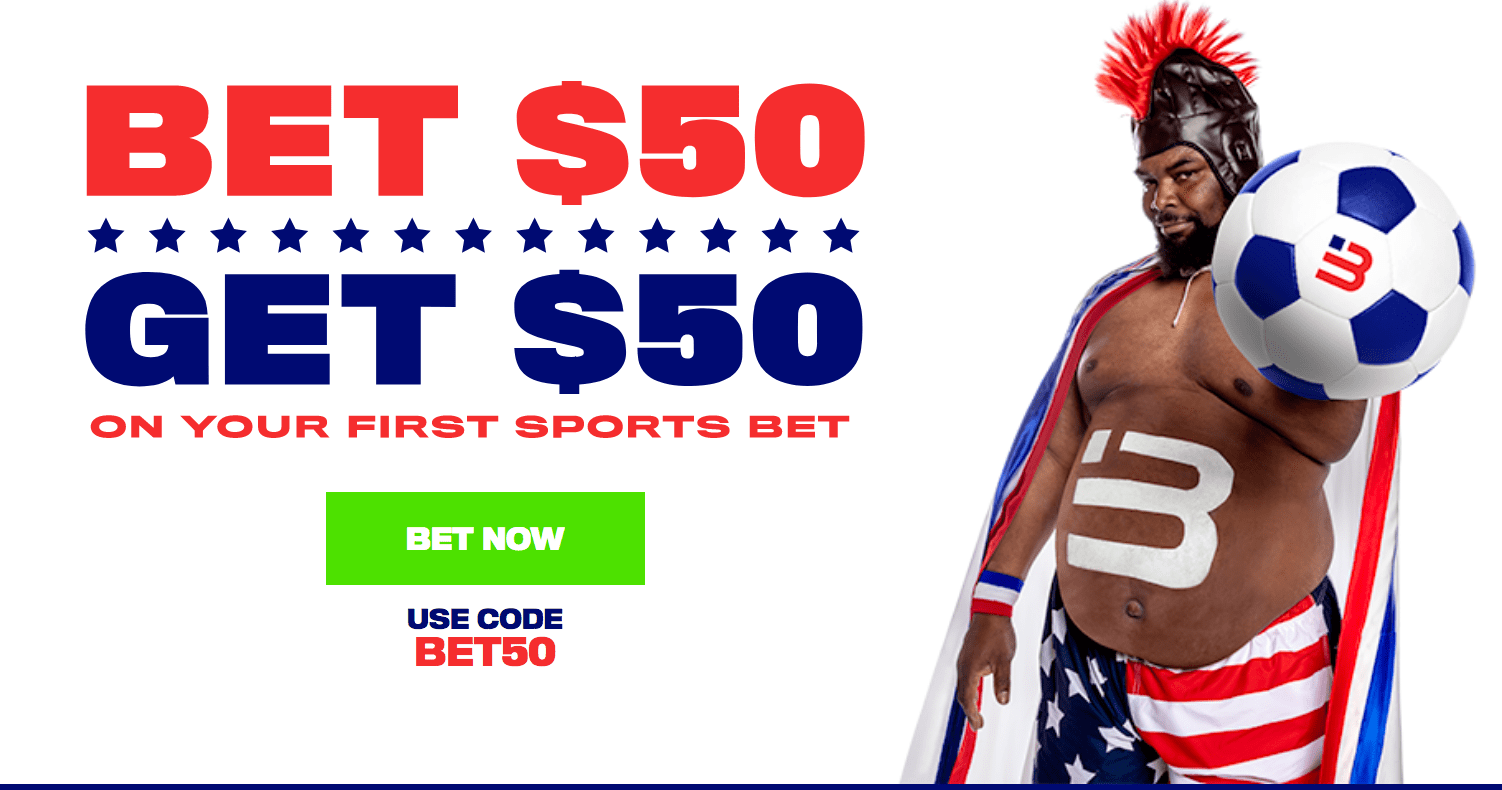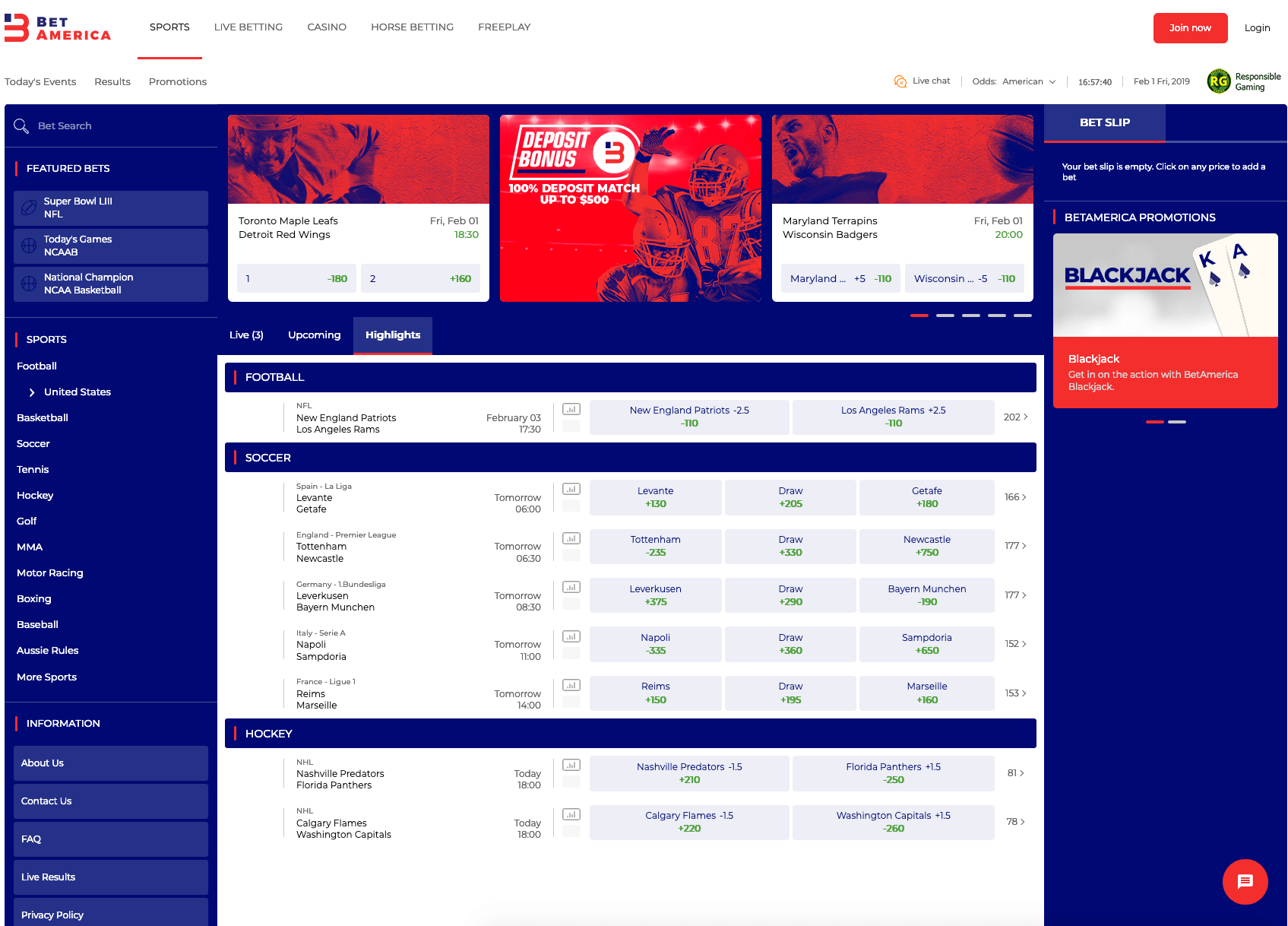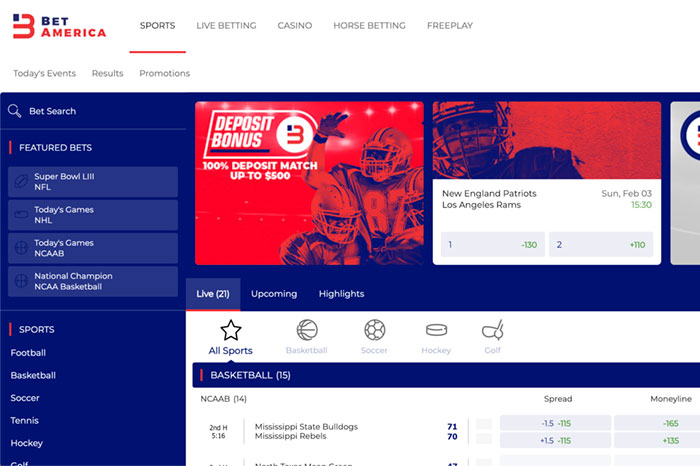 BetAmerica sports betting is an online gambling site that offers players a chance to play casino games like roulette online or place sports wagers on current games like horse racing, NFL, NBA, and more. Unlike other online gaming sites, there is a lot of variety in sports betting, cash rewards, and tons of promotions that rival top casino sites.
Sports Available at BetAmerica Sportsbook in NJ
In the past, the main focus that the site had was betting on the horses, however, they have quickly evolved to become an all-round online casino sportsbook central, which now include live gambling options:
Baseball
Soccer
Tennis
Golf
Football
Basketball
Hockey
MMA
Motor Racing
Boxing
Horse Racing
Cricket and other.
Mobile BetAmerica App for New Jersey Players
The BetAmerica mobile app, like the site, has software that is compatible with virtually all devices and browsers. In order to download the app for iOS or Android, check out our bett app reviews and follow the download instructions.
Top NJ BetAmerica Promo Codes and Loyalty Program
Bonuses and Promo Codes
The biggest drawcard to the gambling site is the BetAmerica promo code for the 100% deposit bonus they offer (up to $100 USD). As most New Jersey casino gaming sites offer special free spins or no deposit bonus, this site also has occasional bonus code offers for their members. Since bonuses vary according to their promotional calendar, it pays to check out the site often to get the most out of their offers. After the initial deposit promo, there may still be a BetAmerica deposit promo code for subsequent game deposits.
Loyalty Program
The loyalty program never needs a BetAmerica promo code for benefits. Instead, the site offers special loyalty VIP perks that regularly change. To keep things interesting, VIPs currently get:
Double points on Wednesdays
Daymakers with a money-back deal
Special hospitality event invites
Fee-free credit card deposits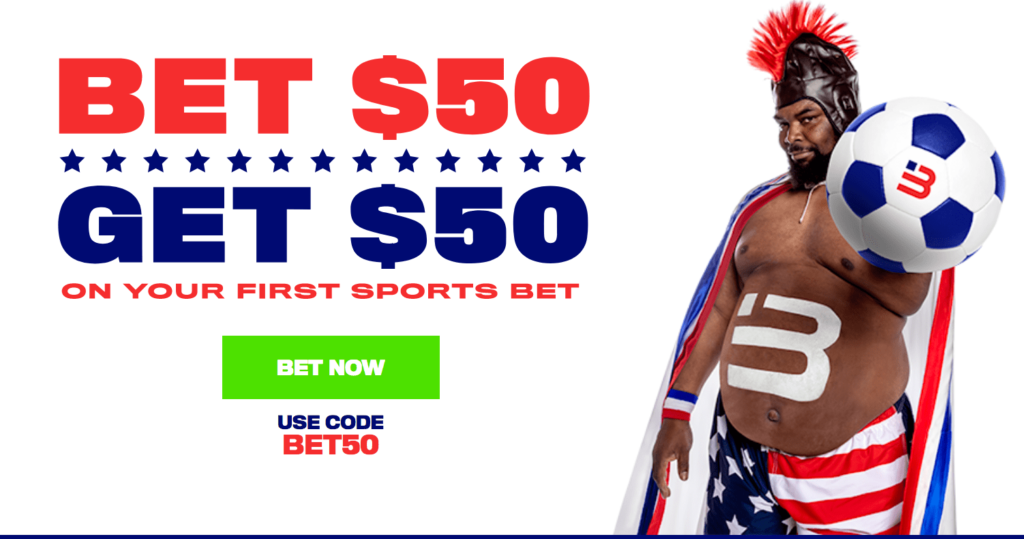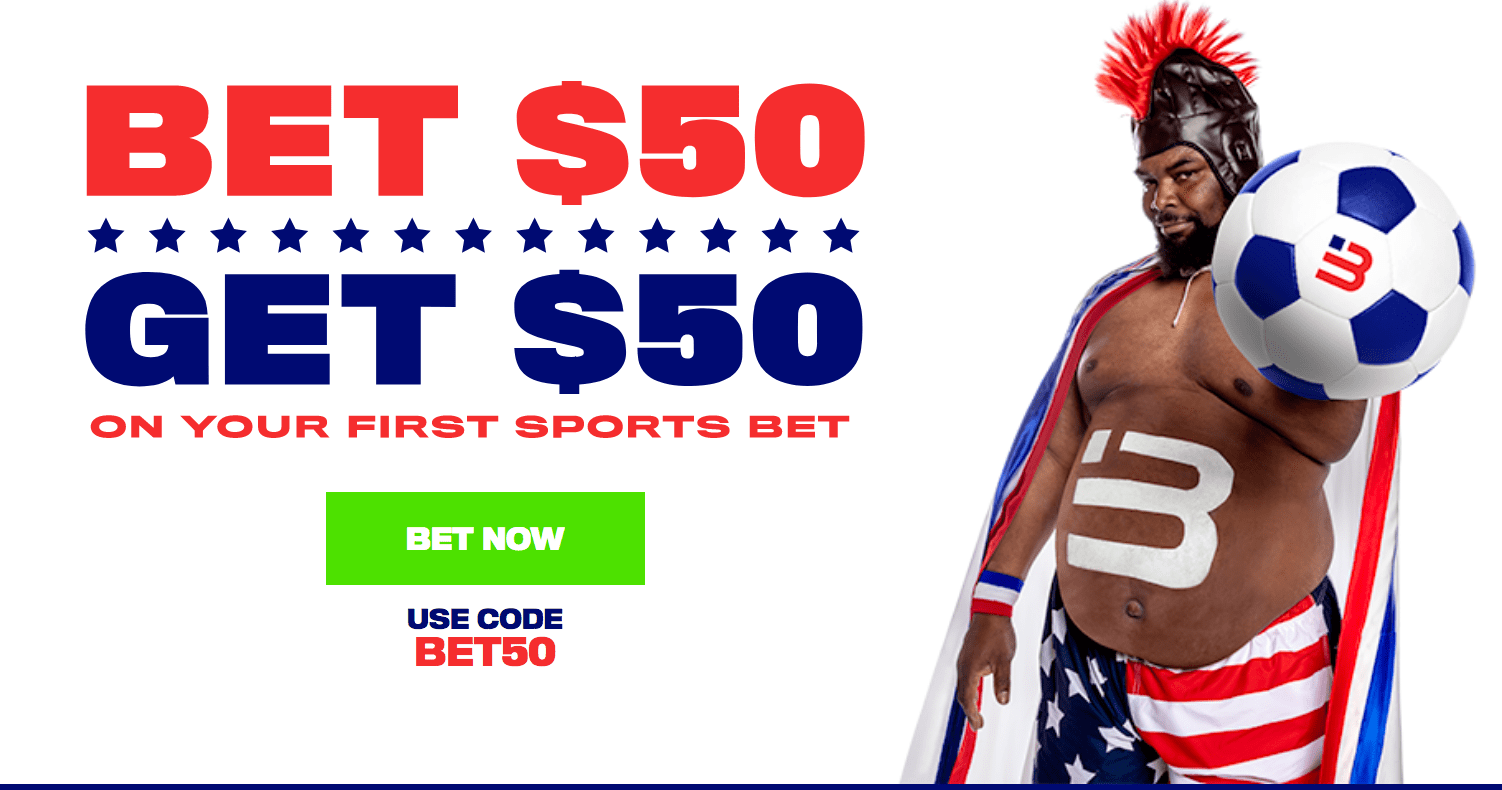 BetAmerica Licensing Information and Legality
Licensed and regulated in NJ, the licenses are based in North Dakota. The following are states that allow wagers on BetAmerica sportsbook:
Alabama
Arkansas
California
Colorado
Connecticut
Delaware
Florida
Idaho
Illinois
Indiana
Kansas
Kentucky
Maine
Michigan
Minnesota
New Hampshire
New Jersey
Ohio
Oklahoma
Pennsylvania
Rhode Island
South Dakota
Tennessee
West Virginia
Wisconsin
Wyoming
Owner and Security
The NJ BetAmerica sportsbook site is owned by the famous Churchill Downs Incorporated. BetAmerica sportsbook NJ is known to be legal and safe for all members of the site. They have top of the line security systems in place to ensure that all information stays secure at all times.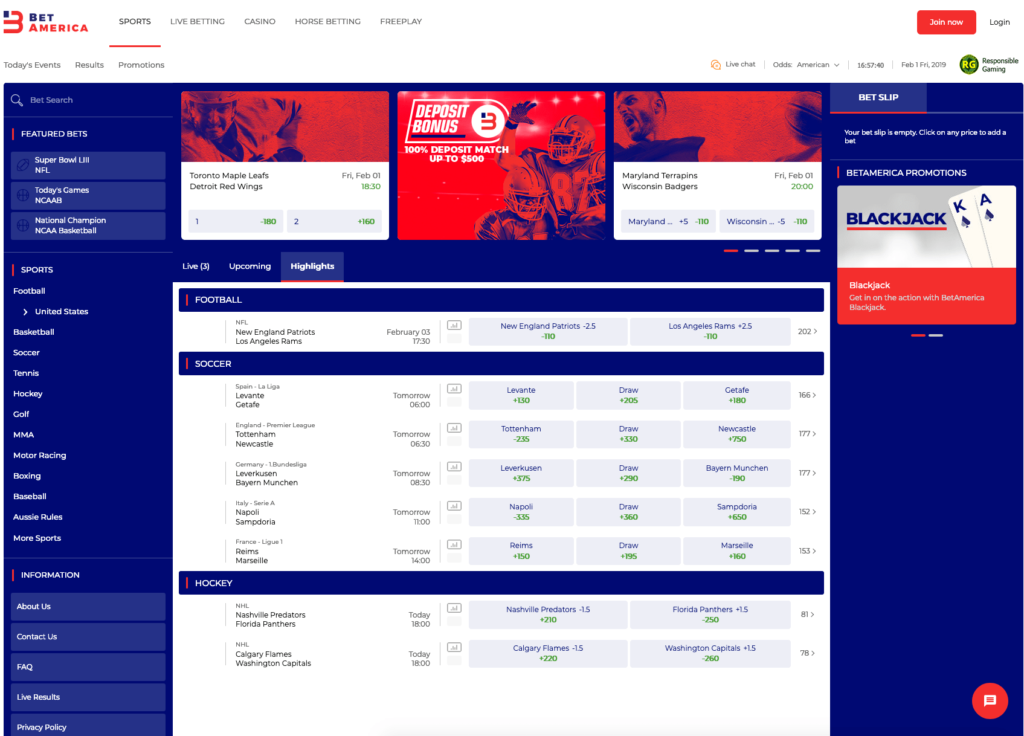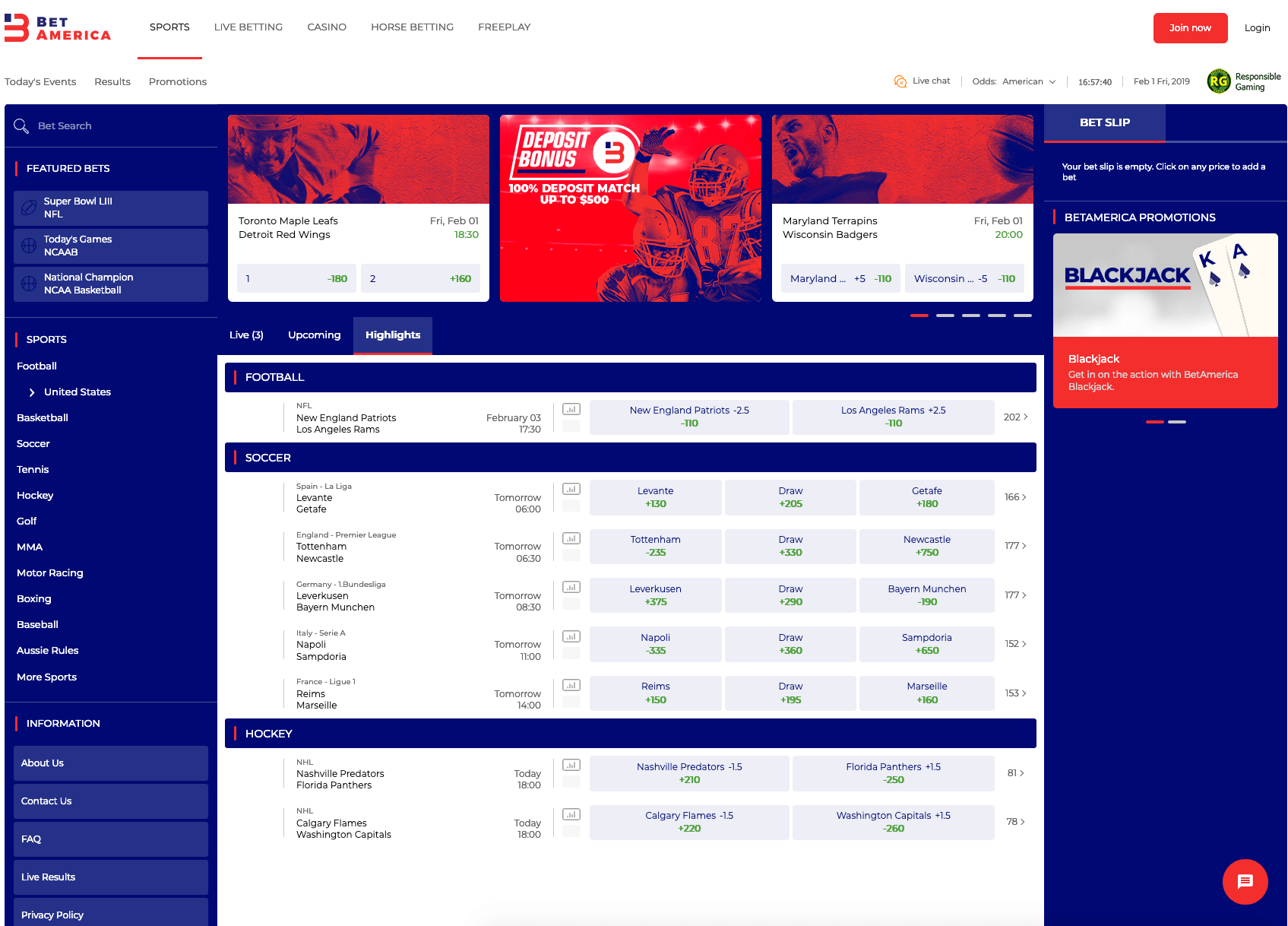 BetAmerica Online Sportsbook Wagers Variety in New Jersey
NJ sportsbooks online BetAmerica betting is wide-ranging to give members variety in their sports and wagers. To get a better idea of some of the bets available, check out the common options below:
Parlay: This bet requires several factors that need to play out in the way the site member decides. All of the outcomes that are chosen in the bet must happen in order to win the wager. This type of bet is often considered to be the one with the lowest odds of winning, due to the multiple factors involved, but this is also why parlay has some of the highest payouts.
Moneyline: This is a great beginner bet that new members can try out sports betting. It is a simple bet on the team that will win. The team that is most favored to win the game will have a higher odd of getting a payout, but will also have a lower payout. The underdog of the game will have lower odds of winning, but will payout much more if they do win the game.
The Spread: The outcome of this bet will depend on a point spread for the final score. One team will often be given a points handicap which they will have to claw back to win. For example, if Team A is given a handicap of -2, and Team B is given +2, Team A would have to beat Team B by at least 3 points. Alternatively, a bet can be made that Team B will win the game, or at least lose the game by less than 2 points.
Over/Under: This particular bet requires a little more research to place a very good bet. The sports booking site will have done their own research on upcoming games, the teams, individual players, and several other factors that could influence the outcome of the game. Site members place a bet on whether the final stats will be over or under the site predictions. Some people prefer to go with their gut, while others prefer to do their research to see if they can beat the expert forecasts.
Live In-Game Bets: Live bets are definitely for people who want to feel the thrill and excitement of watching a game and making bets on the fly. There is often not much time to think, just place a wager on what will happen next. This is the type of bet for people who want to feel like they are on the edge of the game at every turn.
BetAmerica Banking and Payout Speed in New Jersey
Deposits
Visa & MasterCard – Sportsbook BetAmerica credit card fee is 3.98% per deposit
Telecheck – free
PayNearMe – $3.99 per deposit
MoneyPak – $5.95 per deposit
PayLucky – 3.98% per deposit
Prepaid Cards – varies
Check – varies
Wire Transfer – varies
Withdrawals
eCash (electronic cash)
Check
Conclusion
BetAmerica casino NJ is an all-in-one destination for both casino games, and sports betting. They offer safe and secure games, with a fairly impressive selection of sports, including college sports.
Don't forget to read our detailed reviews on the best sportsbooks in New Jersey for a great betting experience:
BetAmerica Sportsbook FAQ
Which prepaid credit cards for BetAmerica can I use?

Visa and MasterCard prepaid cards are mainly accepted on the site.
What player is needed for BetAmerica?

Most NJ sportsbook sites are compatible with most devices and browsers like Safari, Chrome, Firefox, and Internet Explorer. Alternatively, apps are made for iOS and Android.
How to use Bank of America for BetAmerica?

Unfortunately, not all banks accept payments to BetAmerica accounts, even if they are made through Visa or Mastercard. The site shows a vast list of banks, along with their respective decline rates. Bank of America Consumer Credit has a decline rate of 68%, while Bank of America National Association has a decline rate of 100%.
Is BetAmerica legit?

BetAmerica NJ is a well-known gaming site that has been around since the mid-2000s, and is legally licensed and regulated by US law.
Written by: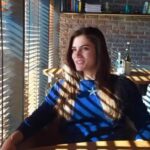 Author, Contributor, Law Expert at Luckynj.com. Karen is our writer and contributor who tells you the latest news and trends in gambling industry that take place in the United States.
Best Sportsbooks in NJ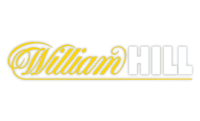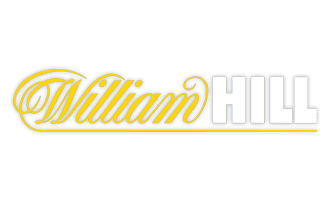 William Hill Sportsbook NJ
Up to a $500 free bet if you're a new user
Easy bet slip functionality
Live betting


BetMGM Sportsbook NJ
"Boosted parlays"
100% Deposit Match Up to $500
Free $10 Weekly Bet

BetStars Sportsbook NJ
Instant deposits for the most popular payment methods
Great bonus offers
Competitive odds on top sports