Boom Fantasy Review - Bonus Code for May 2023
Published: Apr 1, 2023
Updated: May 3, 2023
$200
Pros
+

Boom Fantasy is available in 38 states.
+

Offers a huge variety of sports, which you can play and bet on.
+

Boom Fantasy initiated a new subset of predictions contests - "Streaks", which can provide the chance of a 10,000x payout.
Cons
⨯

The mobile app is better, than the website.
⨯

If you have a problem, you can reach the customer support only via e-mail.
Screenshots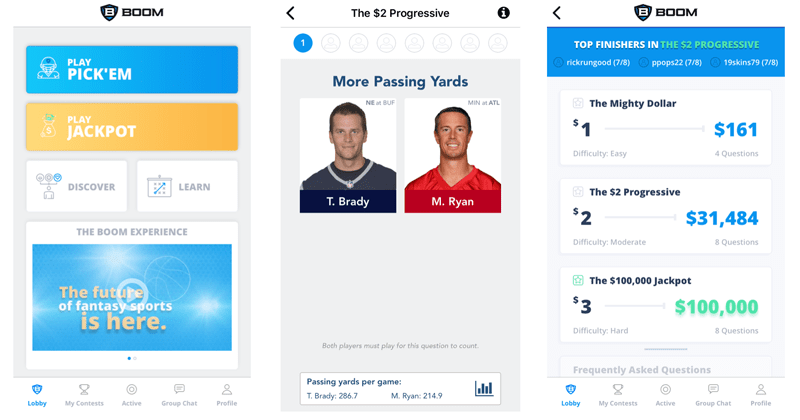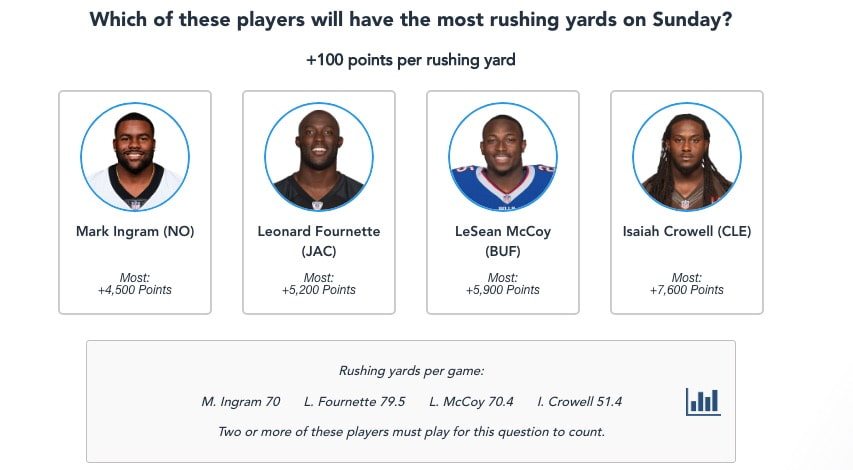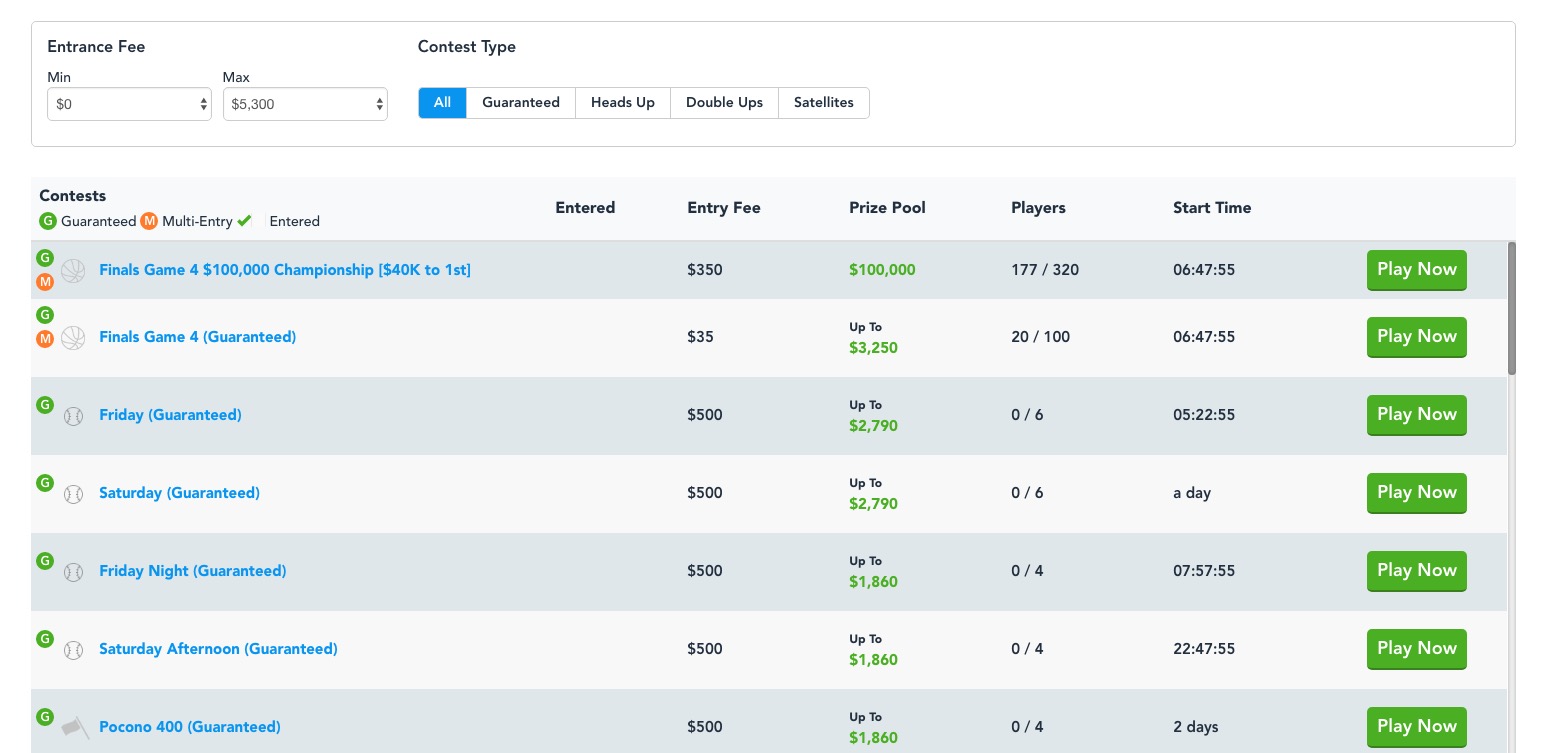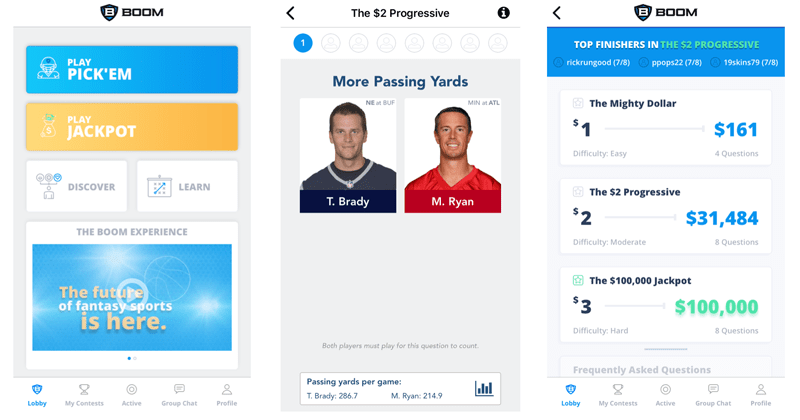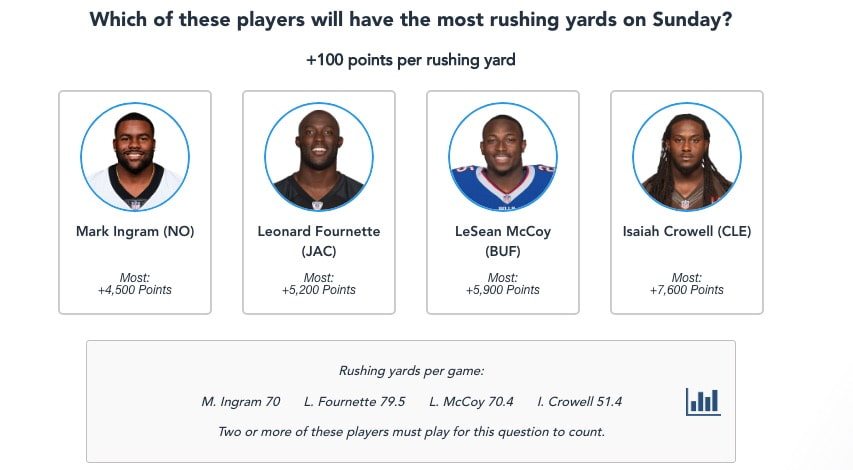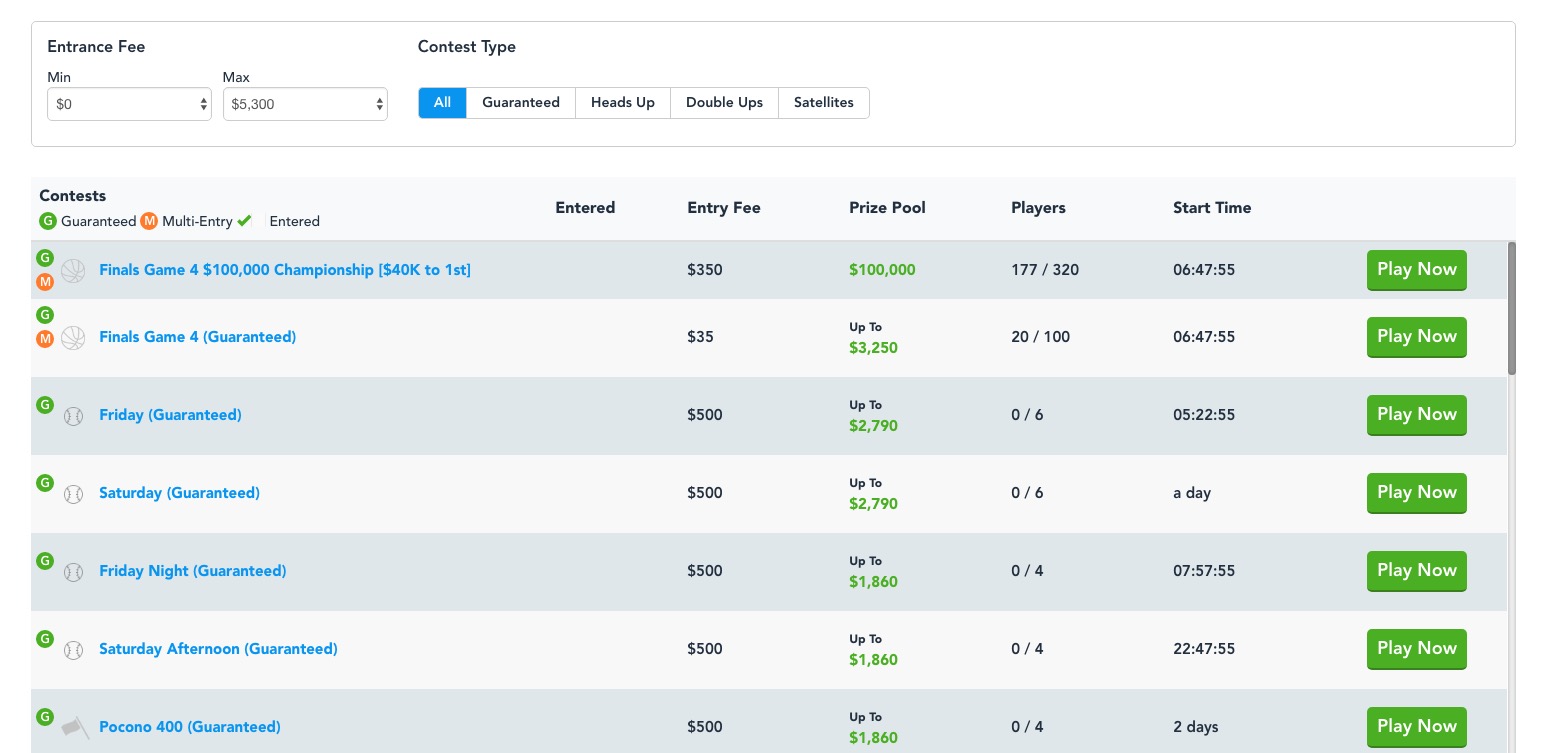 Founded in 2015, Boom Fantasy has become a catalyst for change in the Daily Fantasy Sports world and has become the favorite platform for DFS fans looking for a great mobile-based experience. Our New Jersey Boom Fantasy review predicts that it will see significant popularity because of its distinctive and high-quality gameplay that has simplified the game for the users. Fantasy sports enjoy legal support in most of the states in the US. Some States are against fantasy sports as they see it as an extension of gambling and don't allow players to play when real money is involved. A. Murphy and Assaf Einat founded Boom Fantasy. Both being gaming experts with extensive experience, understood the need for a much better BFS experience. As predicted by them, Boom Fantasy received the expected applause and love from its users and also won the 'Best Fantasy Sports App Award' in 2007. In the same year, Boom managed to get a license to operate as a Daily Fantasy Sports site in New York after raising $2 million capital. Boom Fantasy continues to enjoy a large fan base even after being a new addition to the space dominated by much older veterans. We will provide an extensive overview of the Daily Fantasy Sports domain to give you the necessary information to start your gameplay with ease.
Choosing a DFS Site in New Jersey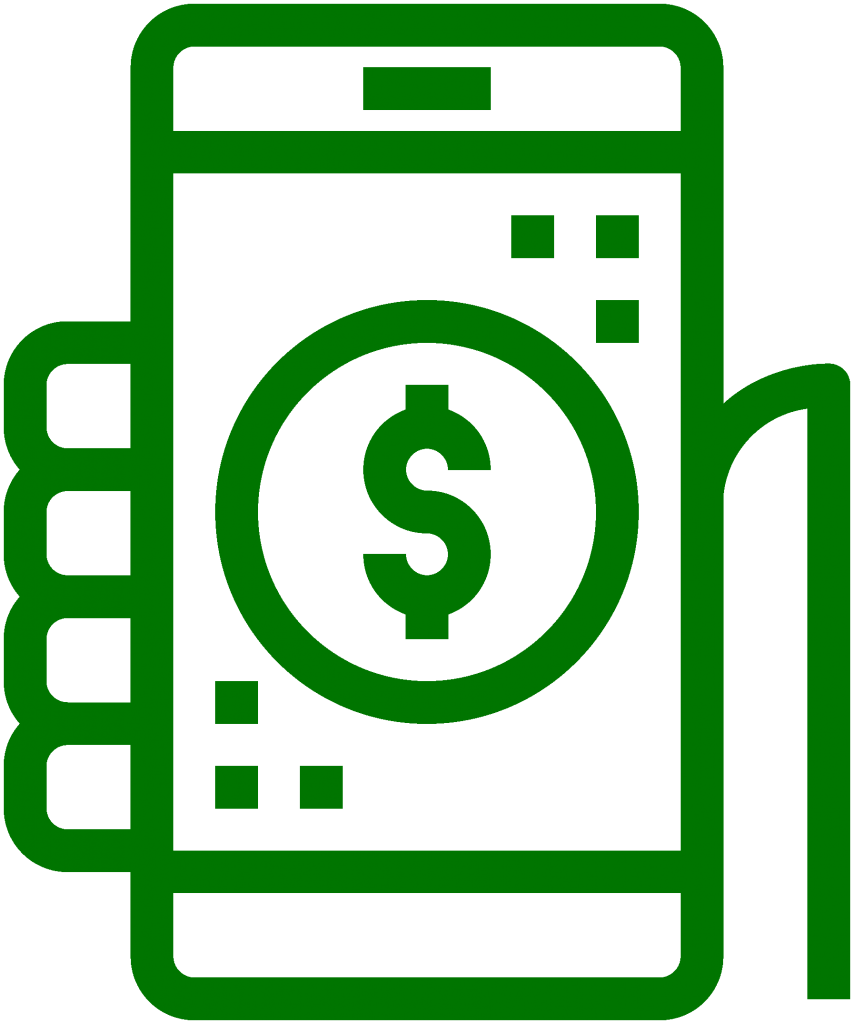 DFS provides a unique platform for players due to the thrilling ride. Each of the DFS gaming sites offers a different kind of experience to players, and one must choose a particular site based on their comfort level. The first factor you should keep in mind is licensing. A platform with proper licensing from the authorities is always a safe bet. So, ensure that the site you select has been registered and regulated. The second factor you must consider is the payment and withdrawal method that the site offers. Check out the list of the methods and see if you have a favorite. The next step is to check what kind of security standards the site adheres to protect its users' data and provide a safe space for transactions. You will be using the software and apps for the gameplay, so it is necessary to check them out for your compatibility. Check out what kind of promotions and offers are provided by the site for its players.
The next thing you should check is if the platform provides you with a diversified range of gaming options. This is because diversification makes gaming a much better experience. The cash-out must not have several restrictions that will give a headache in the future. The more the deposit bonus, the better, so make sure that the deposit bonus is attractive. Daily Fantasy Sports platforms usually provide a diverse range of competitions. Therefore, you must check out the kind of competitions that are available with the one you are choosing.
Some of the examples are cash games, Double ups, Guaranteed pool prize, private contest, full roasters, and single game. Finally, you must go through the reviews of previous and current customers about the site's services. Most of the issues that arise in online gaming platforms are because of the customer service; test the customer service before you select a site as they will be an important part of the gaming process. Our New Jersey Boom Fantasy review team suggests that you must keep all these factors in mind if you wish to have a great gaming experience.
How to Play on DFS Sites in New Jersey?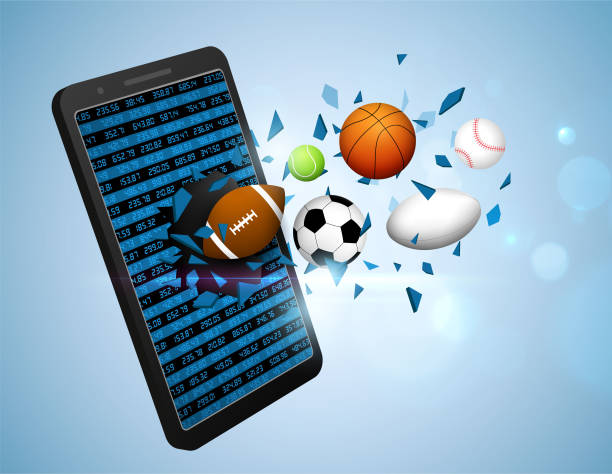 Most players who jump into the world of Daily Fantasy Sports without properly understanding the platforms end up being frustrated. The first thing you must do is choose a sport of interest. There is a wide variety of sports available in the Daily Fantasy Sports platforms, and you must only go for a sport that you have an active interest in. The most popular sports that are available in the majority of the platforms are football, hockey, baseball, basketball, soccer, etc. These games are designed to give players a wonderful experience and make them enjoy the necessary thrill of sports betting.
There are usually four types of games that you can enjoy at a Daily Fantasy Sports platform. They are Head to Head(H2H), Guaranteed pool prize(GPP), Double Up(50/50), freeroll games. We will suggest that you start with a freeroll and build up a good bankroll by winning a few times. Once you are done with the setup, the next thing you need to do is to draft your team. Initially, it will all be a little gloomy, but once you get used to the game, you will naturally be able to formulate excellent strategies along with the prediction of the winners in all the types of games. Most of the Daily Fantasy Sports Sites will provide you with tutorials and effective guidance so that you don't find yourself confused.
The New Jersey Boom Fantasy keeps the platform in a different category from other Daily Fantasy Sports websites as it does not have the common process of letting you create draft lineups and allotting virtual salaries. The platform will put a number of questions for you to bet on. These questions will be based on the performances of players in future games. You might be asked to bet on the top four soccer players' performance and if they will score well in the succeeding games to come. The contests usually consist of 4 to 8 questions, and you need to make precise predictions to win. Making accurate predictions is how you can win. Certain questions are potentially riskier than others and will fetch you more points for the right answers.
NJ Boom Fantasy DFS Bonuses & Promos

Most of the Daily Fantasy Sports sites provide excellent promos and bonuses, and Boom Fantasy does not lag behind. It gives a generous signup promo of 100 percent for up to $200 along with two entries for free. It's quite simple to claim your bonus; all you have to do is sign up and deposit real money. Players will get a 90 days grace period to utilize the bonus money, and you must make the most of it during the prescribed period. It also has a VIP program where you can keep on accumulating points for future redemption. Make sure that you read about the promos and bonuses extensively in order to use it wisely and efficiently. Do not end up draining your bonus amount quickly but use it to multiply your balance.
Boom Fantasy also allows you to gain bonuses if you add your friends via recommendations. You will receive a $3 ticket and a generous 20% of your friend's earnings for the rest of your life. So make sure that you keep inviting your gaming buddies regularly in order to create an extra source of income for yourself. Overall, the bonuses and the promos provided by Boom Fantasy are very generous and are one of the essential factors why it managed to attract such a large number of players in such a period.
Kinds of Sports Challenges at NJ Boom Fantasy DFS Betting
NFL: As we all know, the National football league was founded in Ohio in the year 1920 and was initially called the American Professional Football Association and adopted the present name in 1922. The game is essentially a hybrid version of both rugby and football and has managed to create a large following throughout its history. The fantasy version of the game is as popular as the real game and will allow you to test your skills as an owner. After joining the league, you can scout for the best players and add them to your team. Your team will compete against other owners, and you need to defeat all of them for winning the championship.
Major League Baseball: Major League Baseball was formed by merging the National League (NL) along with the American League (AL) in 1903. Since then, the league continues to dominate the baseball scene in the United States and has been a center of attraction for baseball lovers. The fantasy version of the league has gained popularity among most of the fantasy sports lovers and continues to see a great surge in the fan following.
NBA: NBA has its roots in the popularity of the basketball game among the United States' younger population. It was formed in 1943 with the merger of two basketball giants, the BAA or Basketball Association of America and the National Basketball League or the NBL. The game's fantasy version gained unique popularity among the gamers for the excellent thrill it provides.
NHL: The National Hockey League is the predominant ice hockey league of North America and has a great fan base throughout the continent. It was formed as a professional league in 1917 and since then has been a favorite among North Americans. It was only natural that such a popular league would eventually find its way into the fantasy sports world, with many players enjoying it.
NASCAR: NASCAR or the National Association for Stock Car Auto Racing was found in Daytona Beach in the year 1948. NASCAR is responsible for the popularity of stock car racing as a top sport in the USA. In the Sports fantasy version, players are usually allowed to choose drivers and bet on their performances.
Boom Fantasy Review: Contest Choices in NJ
Fantasy sports platforms offer a wide variety of contest choices that makes the games more interesting.
Guaranteed Prize Pool (GPP): GPP or Guaranteed Prize Pool, is a tournament that gives the largest prizes among all other content formats. The GPP contest comes with the guarantee that the prize pool will remain the same and won't change depending on the number of participating teams, and what you need to do is get a higher rank. It is not easy to do so as you will have to beat thousands of other contenders, and only a well-formulated strategy can gain you the desired spot.
Double-Up: Double up also known as 50/50, is another unique contest in the Daily Fantasy World where you have to strike a win over half of the participants for doubling your money. It provides a greater chance of winning if you have an appropriate strategy in place and would give you the best return with less risk than GPP.
Boom Fantasy Mobile/Apps: Boom fantasy can be played using both the website and the mobile app. Although the website is available, Boom Fantasy still remains a mobile-friendly site. The app works smoothly and demonstrates the efficiency of the development team. It is user friendly, and you won't have to spend unnecessary time to locate any feature. The menu provides the game types from where you can view all the available games.
At the bottom of the screen, you will find the information about the upcoming events. The group chat feature is great and enables you to chat with other players and the support team. When it comes to the app, it is better to look into the New Jersey Boom Fantasy review to know whether it will provide you with an overall great experience and is compatible with iOS and Android platforms.
How to Download The Boom Fantasy App in NJ?
Android: You can download the Boom Fantasy app directly from the play store just like any other mobile application
 iOS: Visit the Apple store and search for the app. Click on download and enjoy it.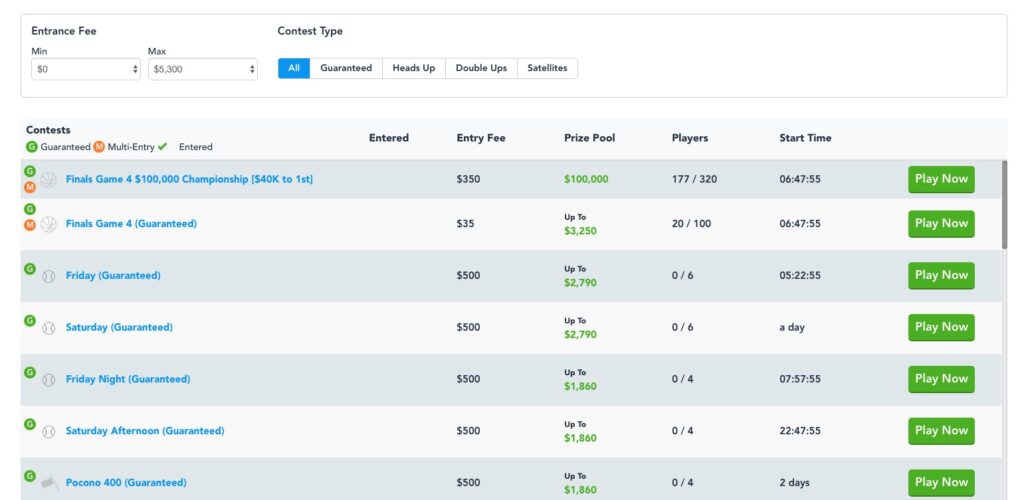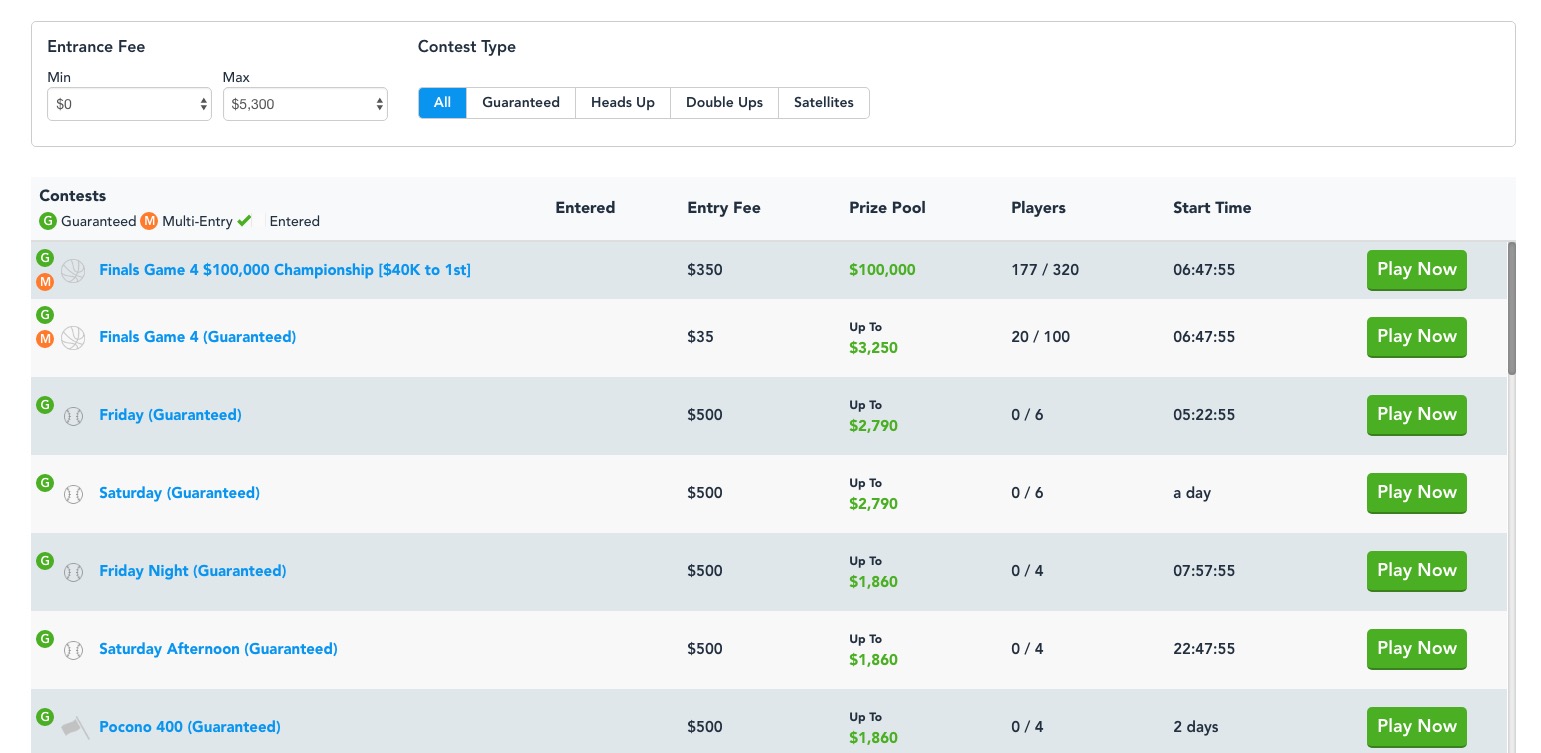 NJ Boom Fantasy Banking/Withdrawal
The banking options provided by Boom Fantasy for its players are Discover Card, Mastercard, VISA card, and PayPal, with USD being the preferred currency. Players have to deposit a minimum of $1 in order to activate their account. The withdrawals generally take 24 hours to process. Since Boom Fantasy is legal in most parts of the United States, credit cards are the best option to make safe and secure payments without going to alternate routes.
Customer Support at Boom Fantasy DFS
Any Daily Fantasy Sports site needs to have active customer support for providing the best user experience. Without an active support system, customers will eventually have problems without someone to offer the solutions. Boom Fantasy has well-organized customer support that is available 24/7 through the app's inbuilt chat system.
Boom Fantasy's Competitors in New Jersey
Swoopt, Side League, Rotoworld, Playon, Fanduel, Franchise Ball, Draftkings, Stars Draft, and Sleeper are some of the most important competitors of Boom Fantasy. Although Boom fantasy is a young platform when compared to its competitors, it has gained considerable ground in the DFS domain due to the revolutionary changes it brought with itself. The hype about Boom Fantasy is quite real, and players are enjoying their time with the platform. Boom Fantasy carries a great reputation among its loyal customers and gives its competitors a tough time retaining their long term customers.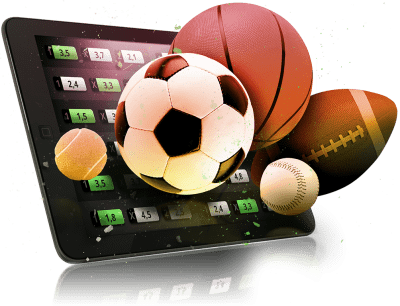 Boom Fantasy has continued to keep a great eye on technological developments and has constantly been upgrading its mobile app and website to suit the players' needs. As we all know that the corona pandemic has brought the world to a still, the online betting market is not unaffected by it. All the major players in the DFS domain have been facing a downward trend due to the pandemic causing revenue loss. When the world gets over this calamity, the world of sports will resume its functioning, and hopefully, the sports betting organizations will also see the necessary growth to recover from the losses it incurred during the pandemic. Overall, things will always look positive for the sector as sports have a special place in people's hearts, and the thrill of betting will never fade.
Conclusion
Betting in sports is as old as sports itself and will continue to be an unofficial ally. Manual betting at the beginning of the modern sports industry has taken over the swift advances of technology and will continue to do so in the future. The advent of the online space in the betting industry has changed it significantly and has made a great contribution to its rapid growth through the instant access provided by websites and mobile apps. If you are a sports lover who likes the thrill of participating in the game through bets, you must take advantage of the new wonders of technology and use it to the fullest extent in the New Jersey betting world.
Do you wonder where to find more necessary information on other Daily fantasy sportsbooks in New Jersey? Check our reviews:
Frequently Asked Questions
Is Boom Fantasy legal in New Jersey?

Yes, Boom Fantasy is legal in New Jersey and is used by a large number of people interested in sports betting. It's a safe and secure platform that received a lot of appreciation from people and is expected to witness such support in the future.
How old should I be to have a right to bet on Boom Fantasy?

You have to be at least 21 years old in order to bet on Boom Fantasy. It is advisable that you don't engage in betting if you are not of legal age.
Is there an Android app for Boom Fantasy site?

Yes, there is an Android app for Boom Fantasy to give the users a mobile betting experience. The app has enjoyed great reviews because of its active and easy to use interface.
How can I contact Customer Support on Boom Fantasy?

You can use the Boom Fantasy app's inbuilt chat system to get your queries cleared by the customer support. It is an inbuilt part of the app and has been loved by the customers.
Will my winnings be taxed on Boom Fantasy in NJ?

Yes, your winning on Boom Fantasy or any other DFL platform will be taxed by the authorities.
Written by: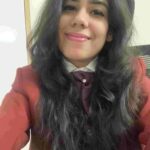 Divya is an expert in content research and analytics, with particular skill in creating gambling and betting reviews to offer our users the best possible guides.
Best NJ DFS to Play


FantasyDraft DFS
FREE $50 NFL contest entry

Fanamana Daily Fantasy
Easy sign up procedure
Guaranteed prize pools
$5 prize pool for every new sign up


Draftkings DFS NJ
Safe and secure for US customers
Impressive variety of bonuses