Review of Caesars Sportsbook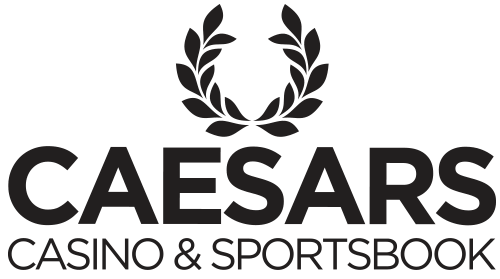 $10
Pros
+

Widespread of games available for betting
+

Lots of betting options, so players can engage however they like, including in-play betting
+

A nice no deposit bonus of $10 and a generous $300 match bonus on new deposits
+

Lucrative rewards and loyalty program
+

Easy, convenient options for deposits and withdrawals
Cons
⨯

Games available are limited to USA-based sports, so there are no betting options for international games
⨯

No live chat on the website, only e-mail and toll-free phone calls
⨯

Fewer bonuses available for Sportsbetting than are available on the Casino portions of Caesars website
Caesars sportsbook NJ is becoming a favorite for US bettors. Caesars Sportsbook online was founded in September 2018, and its user base has grown rapidly as it has become a premier New Jersey legal sports betting option. Caesars is already a well-known name, with physical casinos in Las Vegas and Atlantic City, which offer slots, roulette, and other popular casino games. Their Casino sports betting is associated with a physical location in A.C. but can be accessed easily online. Keep reading to learn why members are calling this the best NJ sportsbook.
What games are included in Caesars Sportsbook?
Caesars sports offered include everything from golf (PGA tour) to MMA (UFC). Other options are the following:
Football (NFL, NCAA, and AAF)
Basketball (NBA and NCAA)
Baseball (MLB)
Hockey (NHL)
Soccer (MLS, EPL, Champions League & More)
Tennis
Boxing
Auto racing (Formula 1, NASCAR)
With such a wide offering, it's not hard to see why Caesars Sportsbook has become one of the most popular NJ gambling sites.
How does it work?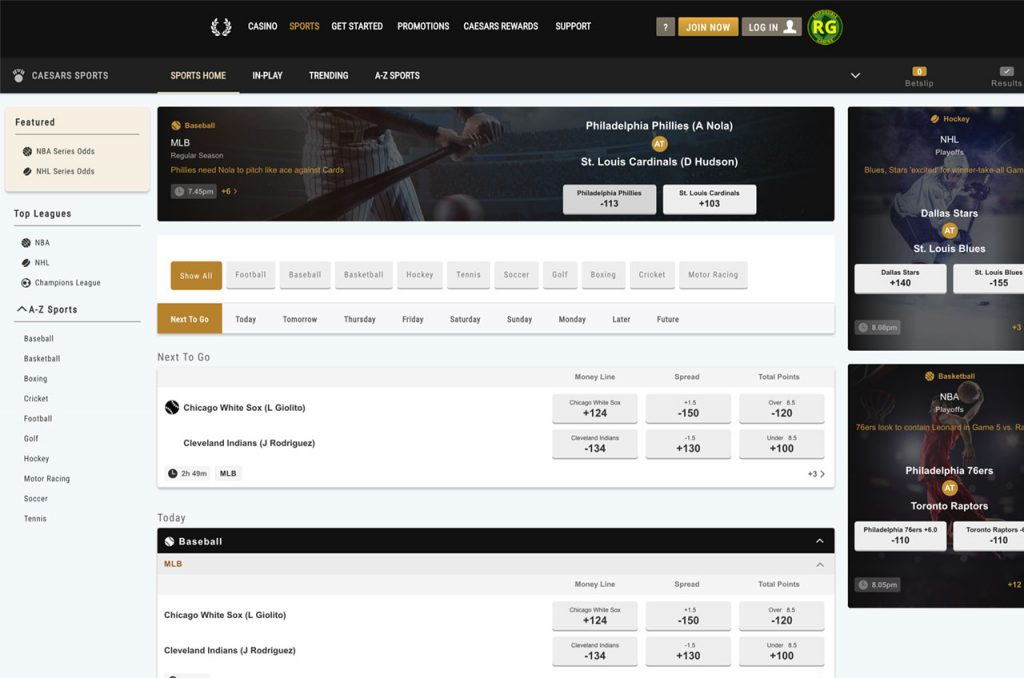 To begin betting with Caesars playbook, new players will need to deposit funds, which we will discuss in-depth later on. At that point, players can begin to gamble for real money by betting on the odds of different sporting events. There are multiple ways to bet, depending on the gambler's preference.
Total bets – Betting on the final score of a game
Parlays – Combining multiple conditions into one bet
Futures – Betting on a larger outcome, like a season/tournament win
Moneyline – Direct betting on a player to win or lose
Point spreads – Betting on a game or player finishing within a set of points
Teasers – Betting on the lesser outcome when making a parlay bet
Bets can be placed before games, but there is also in-play betting available, giving participants a chance to maximize their profit and fun. Regardless of players' gaming preferences, with so many betting options available, members are more than satisfied.
On what mobile platforms can you use Caesars Sportsbook?
The Sportsbook is fully functional across all Android and IOS devices, including smartphones and tablets. Players who are on-the-go in New Jersey can reach the betting bookmaker through their preferred mobile browser and access Caesars playbook NBA, MLB, or any game they follow.
Does Caesars Sportsbook have a mobile app?
Caesars betting app is available for download, and a walkthrough is offered on the website. Caesars app android can be found in the Play Store, and IOS users can find their app in the Apple store. Regardless of which device you prefer, the mobile app is comprehensive, easy to navigate, and user-friendly.
What bonuses are available?
Caesars betting bonuses include a no deposit bonus code for new betters and a welcome match. New members can take advantage of the Caesars sportsbook promo code BETFREE10 to activate their no deposit bonus of $10. This gives the new member $10 for free, so they can place their first bet on the NJ sportsbook without wagering their own cash.
Additionally, first-time depositors are offered up to a $300 match bet on their first deposit. This is an easy, lucrative way for new gamblers on the site to make the most of their deposit.
Does Caesars Sportsbook have rewards or a loyalty program?
Yes, there is an excellent offering for rewards and participation in the Sportsbook's loyalty program. Whether players enjoy Caesars Casino, Caesars Sportsbook, or both, the rewards are the same: every $10 spent turn into 1 reward credit and 1 loyalty tier credit. Members who earn enough credits are eligible to redeem a multitude of high-end offerings from Caesars Entertainment family. These rewards include free hotel stays, entertainment, dining, shopping, and more.
Members of the loyalty program start out in the Gold Tier, and can progress to Platinum, Diamond, or the Seven Stars Tiers. These elite and valued members are offered ever-increasing perks and exciting new options for betting within the Sportsbook and Casino.
Who operates and licenses Caesars Sportsbook?
Caesars Sportsbook is part of the Caesars Entertainment family and is operated through the Atlantic City location Caesars Casino. It is licensed by the State of New Jersey.
What security and customer service features do this site use?
Caesars Sportsbook uses the latest security software to offer its players a totally safe and private gambling experience. It relies on the newest data encryption software, so members never have to worry if their transactions are safe.
The customer service provided by the Sportsbook is also high-quality. Staff is responsive, friendly, and helpful. There is currently no live chat option available, but help can easily be found. Players can reach out to one of their three support e-mails, depending on the type of assistance they are looking for, or make a quick, toll-free phone call.
Caesars Sportsbook withdrawal, deposit, and payout options
Caesars Sportsbook offers great banking options for its members, which we have detailed below for your convenience.
Deposits
The options for depositing money are plentiful, and the minimum is only $10. Additionally, any deposit made can be split between the sports betting and casino sides of the site through the Caesars Shared Wallet. For example, if a new player wanted to take advantage of the welcome match on the NJ sportsbook as well as the NJ online casino bonuses, that can be done in a singular transaction. Methods for deposit include:
Bank Transfer
Caesar's Prepaid Card
PayNearMe at New Jersey 7-11s
Visa
Mastercard
A full list of options is available on their website.
Withdrawals
Withdrawals are just as easy. There are several options available for players to claim their winnings, including:
Caesar's Prepaid Card
PayPal
Neteller
Bank Transfer
Cash is also available for players who want to withdraw funds while visiting the Caesars' Golden Nugget Casino in Atlantic City. Withdrawals are processed quickly and hassle-free.
Should you play at Caesars Sportsbook?
Overall, Caesars Sportsbook an incredible platform for those who are searching for a reputable NJ website to place their bets on. They offer a wide array of games that's sure to please, and we hope they'll expand their market to include international teams soon. Their rewards program and loyalty program offer exponentially increasing value for loyal customers. Lastly, while their bonuses and promotions pale in comparison to the multitude of options available for those who play at the Casino, we still found the $ no deposit bonus and $300 match bonus to be satisfactory and fun. While they don't offer live chat, the staff is still easily reachable and incredibly helpful through the other avenues available.
Caesars Entertainment group has been renowned for decades, and it should come as no surprise that they have created and maintained such a popular sportsbook. For those who still have questions, we've included an FAQ section.
Frequently Asked Questions
What states is Caesars betting legal in?
Caesars Sportsbook betting can only occur within the state of New Jersey, as that is where the sportsbook is licensed to operate. However, travelers who are intended to visit New Jersey are still able to review the site and check out their loyalty program, available games, and view the ongoing bets, prices, and promotions.
Can you bet on Caesars for free?
Yes. As part of Caesars Sportsbook's welcome to new members, gamblers can make a free bet on their first game, with a $10 no deposit bonus being offered by the casino. After that initial credit has been used, players will need to deposit money to their own account in order to continue placing bets and winning money.
Are sports gambling legal in NJ?
Those who are a way of Caesars Sportsbook scams can put their fears to rest. Sports gambling is perfectly legal in the state of New Jersey for anyone over the age of 21. The only restricted categories are high school and college events, which are excluded from the sportsbook entirely.
How does Caesars spread work?
For those who are curious about Caesars spreads, the website makes seeing and placing bets on spreads incredibly simple. Each sport has its own page, where users will find every available game or match going on within the next couple of days. Betters can view the available spreads, choose their favorite, and use previously-deposited funds to enter a bet slip.
Don't forget to read our detailed reviews on the best sportsbooks in New Jersey for a great betting experience: