Caesars New Jersey Promo Code for May
Published: Apr 1, 2023
Updated: May 3, 2023
$1250
Pros
+

Win or lose; you'll get 1,000 Reward Credits® and 1,000 Tier Credits
+

If you lose, you get 100% of your stake back as a Bet Credit - up to $1,250
Cons
⨯

Maximum bet credit $1,250; must be used within 14 days of receipt
⨯

Your Bet Credit is for one-time use and cannot be divided across multiple wagers
Screenshots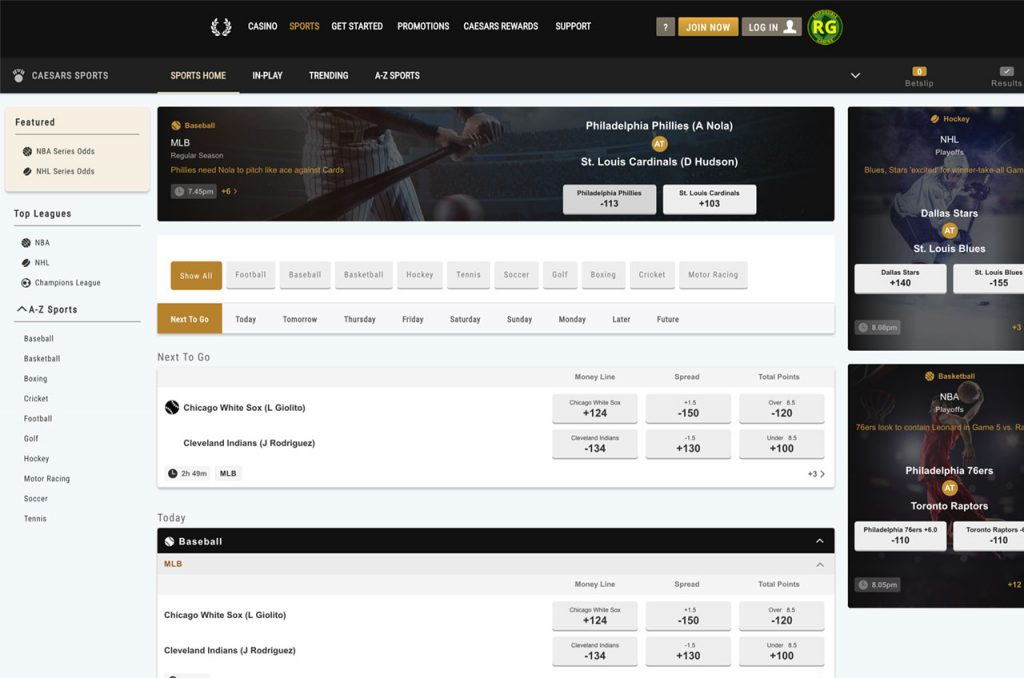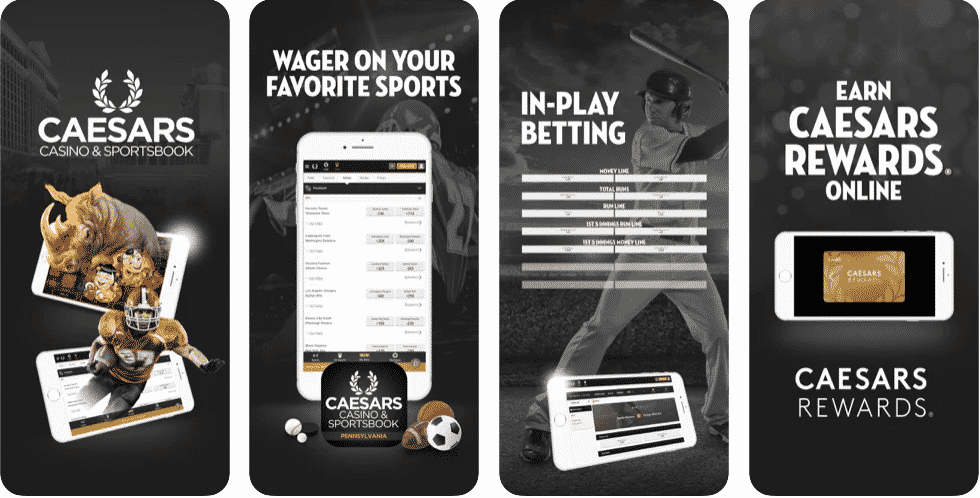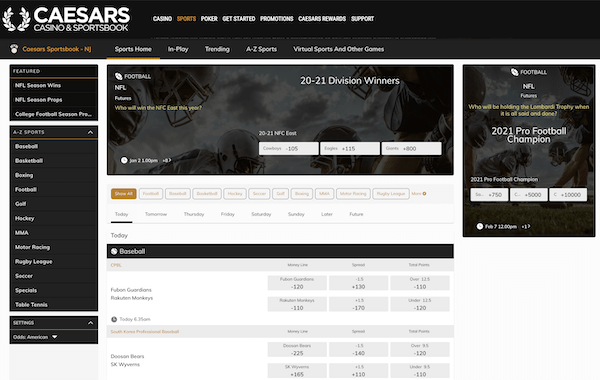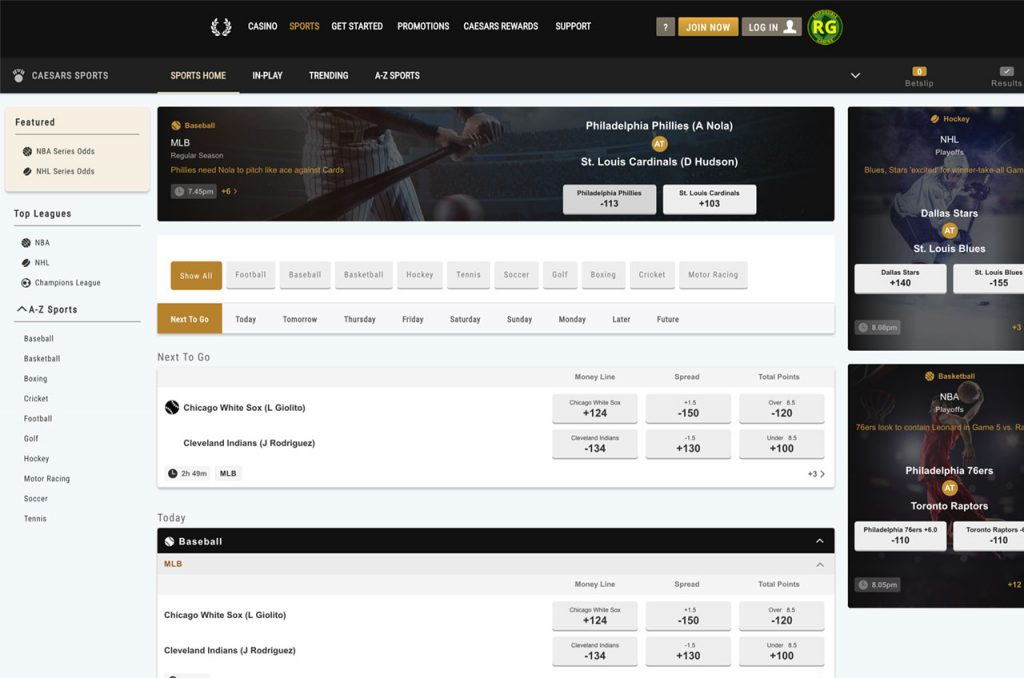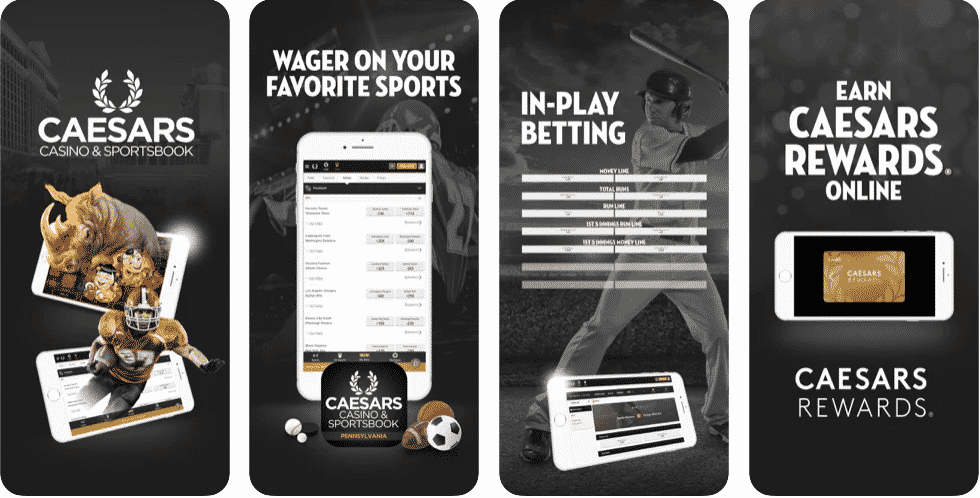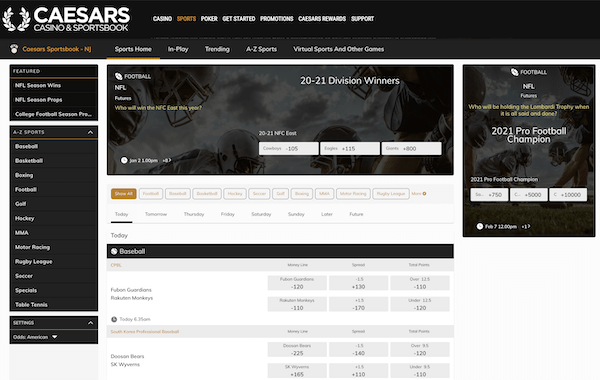 Caesars New Jersey sportsbook is a leading online betting site in the US sports betting industry. It offers huge welcome bonuses of up to $1,250 on your first bet, plus 1,000 Tier Credits and 1,000 Reward Credits®. Caesars NJ provides a wide range of sports events to wager on and is licensed by the New Jersey Division of Gaming Enforcement (NJDGE).
A major benefit of this platform is its intuitive user interface, which makes it easy for newcomers to find their way around all the menus. It offers excellent promotions and competitive odds across various wagering options, creating an enjoyable betting experience.
In this Caesars sportsbook review NJ, you'll find everything you need to know about the betting platform, so read on!
What Is a Caesars Sportsbook Promo Code?
Caesar Sportsbook promo codes give bettors an advantage by increasing their odds or potential winnings. To find them, log in to your account and head to the promotions' menu. From there, you can explore the available offers and discover guides on how the bonuses work. Currently, there's only one available promo code for all new bettors, but stay tuned to the website's updates not to miss any upcoming offers.
What NJ Players Can Get With A Promo Code
Let's take a look at what you get from using Caesars NJ sportsbook's promo code.
| | |
| --- | --- |
| Online Sportsbook | Caesars Online Sportsbook NJ |
| Caesars sportsbook promo code NJ | CZRFULL |
| Welcome bonus | Up to $1,250 on your first bet, + 1,000 Tier Credits & 1,000 Reward Credits |
| Last Updated | March 2023 |
Join the Game With a Caesars Sportsbook Welcome Bonus
In 2023, new users in Caesars NJ can benefit from a first betting promo of up to $1,250 bonus funds. Furthermore, they will get up to 1,000 Tier Credits and 1,000 Reward Credits®.
You can claim your welcome bonuses during registration if you meet all the basic requirements. To be eligible for any code, you must be 21 and new to this platform.
Note that your wager must be settled within 30 calendar days of your registration. All betting credit rewards will be transferred to you within two days. You must use these bonuses within 14 days, or they'll expire.
Welcome Bonus Explained: How Does it Work?
To use the welcome bonus, you must make your first bet with real money by covering the minimum wager of $10.
But first, you need to make a ten-dollar minimum deposit for Caesars NJ. Subsequently, you will get a refund only if your bet loses, at a maximum amount of your initial deposit, meaning if you put in $500, you will get a refund equaling this $500.
You cannot make multiple free bets or use the promo if your initial wager is lower than $10.
Other Promotions at Caesars Sportsbook
All NJ users can partake in the "Court of Dreams Giveaway" by earnings drawing entries from wagering on NBA matches. The winner will get tickets to the New York Knicks vs. Minnesota Timberwolves game.
Another available promo is the "Independence Day Drawing," where bettors can partake by earning an entry for every 25 Tier Credit earner online in Caesars NJ sportsbook. The winner of this drawing will win a stunning 2023 Ford F150 Raptor.
An additional 1,000 Tier Credits and 1,000 Reward Credits® bonus is awarded to every registree who uses the (CZRFULL) promo code.
These are part of the Caesars NJ Sportsbook loyalty program that customers may get in the platform's physical destinations. Tier credits will increase your overall tier (Platinum, Gold, Diamond, etc.), while these reward credits can be used in any "room" for food or other entertainment purchases.
Author Note: You can read all the bonus terms on the Caesars website or application.
Is Caesars NJ Legal and Authorized in the State?
Caesars website and app, including all services related to them, are legal in New Jersey. The New Jersey Division of Gaming Enforcement (NJDGE) regulates all sports and betting Caesars New Jersey sportsbook activities.
All licenses provided by the NJDGE allow legal sportsbooks like Caesar's NJ to operate in the State and guarantee its adherence to state and government regulations. That includes government gaming and player protection regulations. NJDGE ensures Caesars Sportsbook complies with all regulations through regular audits and inspections.
That further guarantees the quality of this online betting site and its activities.
To bet legally in Caesars online sportsbook NJ, you must be at least 21 years old. You have to complete a registration and prove your identity.
The last four digits of your SSN will likely be required to do so. During any activities on this sportsbook app, you must have your location turned on to verify you're in NJ. You should place bets only if you are physically present in New Jersey.
Step-by-Step Guide on Creating a Caesars NJ Account
You can create a Ceasers NJ Sportsbook account from your phone or computer. All you need is an internet connection and to follow these steps:
Download the Caesars NJ application or access the site.
Find the big green "Bet Now" button and tap on it.
Enter the necessary info like name, address, etc.
Enter any promo code you have (e.g., CZRFULL).
Accept the T&Cs.
Select the deposit method to make your first deposit.
The platform has many deposit methods like PayPal, Visa, Bank Transfers, and more, so you can easily pick one. As conditions, you must be of legal age and registered as a citizen of NJ. Aside from that, you may register even if you are not physically in this State. However, betting requires you to be present in New Jersey.
Alongside the information you fill in during your registration, Caesars Sportsbook may require further details to verify your account, like a bank statement.
You must also select secret questions that you can answer if you withdraw money from their physical locations like Caesars Casino Atlantic City.
Caesars NJ App – the Ultimate Sports Betting Companion
Caesars sports betting app in New Jersey offers users a friendly mobile experience. It is designed with a sleek and modern interface, allowing easy menu navigation. With just a few taps on your phone screen, you can effortlessly find all available sports betting in NJ odds you are interested in.
Their mobile app also offers a variety of features like live betting, daily odds, promotions, etc. You can see four menus in their application's "home" screen, all related to betting and its schedule. In addition, you'll notice featured wagers regarding your sport, live, and featured bets.
Caesars App: How to Download
Downloading their application can happen via the app or Google Play Stores. Once you open them, locate the app by using the Caesars Sportsbook name, then tap on install/download.
Another way is to visit the official Caesars website, there you will find a link for iOS or Android, pick one, follow it, and download the mobile app.
How To Place a Wager on Sports
To place a bet in Caesars online sportsbook NJ, select a sport and a wager you wish to make. From there, you'll open your bet slip (you'll see a small black bar in the lower-right corner) and select what type of Bet you want to make.
It can be parlay, teaser, or straight, and other options are available at the bottom of their app. Once satisfied, press "Place Bet" and await your results.
Caesars Sportsbook: Weight the Pros and Cons
Before starting with Caesars New Jersey sportsbook, we'd like to introduce you to its most prominent pros and cons:
Pros:
Simple and beautiful interface: Their interface allows you to navigate, find your sports and place bets quickly.
Wide variety of popular sports: At Caesars Sportsbook, you can find sports from football to NBA.
Fantastic odds: One of the best on the market, offering competitive odds to its users;
Excellent sign-up bonus: Caesars sportsbook promo code NJ regarding a matchup to $1,250 is one of the best to be found.
Cons:
Slow withdrawals: Sometimes, it can take up to three days to get your funds.
Types of Bets on Caesars Sportsbook
Caesars sportsbook NJ provides users with a wide range of bets across multiple sports. Some of its most popular available ones are:
Moneyline bets: a simple type where you bet on positive or negative odds. All negative odds are the favorite of a matchup, while all positive is the underdog.
Over/Under bets: this type of wager revolves around a game's score. It does not matter who wins/loses. You bet whether the total final score will be over/under a specific number. You can see this type of wager named a "totals bet."
Point spread: These are bets where you bet on a team and point out that they win or lose by more/less a certain margin. For example, if a spread is -5 for a team, they need to win by at least 5 points to cover your bet spread.
Parlays bets: These are popular because they offer huge rewards. However, you must win a combination of two or more wagers without making a mistake.
Futures: Such bets involve wagering on an outcome of a future sports event like the NFL games, like a team winning a championship. They are created for long-term betting and can be placed long before the event, with higher payouts.
These are just a few examples as on the Caesars online sportsbook NJ, you will find bets like Round-Robins, teasers, and even live in-play betting, which is also worth exploring.
List of Sports You Can Bet on With Caesars
Caesars sportsbook NJ has a diverse selection of sports you may bet on, like football, USA favorite. While it's possible to wager with NFL odds, you cannot bet on college football in NJ as it's unlawful. Another option is to bet on basketball games and leagues like the NBA or NCAA.
Within the Caesars sports betting app in New Jersey, you will see bets related to MLB, as many NJ people favor baseball. You can also wager your money on Hockey (all NHL games) and European Football (Soccer).
Wagering is possible for almost all major leagues, like the Premier League, The Championship League, La Liga, etc.
Those who love extremes may access the Caesars website and app and bet on MMA by wagering on UFC matches. Additionally, you may bet on tennis and even golf.
All popular sports feature standard betting options from above. For more information and new sports additions, you can check their app.
Author Note: You cannot bet on college teams and leagues in New Jersey, as it's illegal.
Caesars NJ Available Teams You Can Bet On
Some of the best teams to bet on Caesars New Jersey sportsbook are related to New York and Philadelphia. The NHL New Jersey Devils, New York Islanders, and Philadelphia Flyers are a few examples.
In MBL, you may pick among teams like the Mets, Yankees, and Philadelphia Phillies. For basketball, you can select the Brooklyn Nets and New York Knicks.
Payment Methods Available on the Caesars Sports Betting App
Caesars New Jersey sportsbook provides its users plenty of transaction options to pick from, like:
Debit and Credit Cards: Commonly accepted, they offer security, fast transactions, and convenience to many bettors;
E-wallets: Modern alternative preferred by gamblers. On Caesars' website, you'll see that they accept PayPal, Neteller, and Skrill. These methods are instant and easily accessible from your mobile;
Bank Transfers: You can quickly deposit and withdraw money from and to your bank account.
E-checks: Another popular alternative that you'll find at Caesars Sportsbook platform is ACH;
PayNearMe: A cash deposit option that allows every platform user to deposit funds into their account at a local participating retailer. Works by receiving a barcode on your app, later scanned in the retailer shop;
Cash at a physical address: Caesars sportsbook NJ allows you to make physical transactions at Caesars Atlantic City.
Below you will see Caesars NJ sportsbook depositing and withdrawals limits, transaction periods, and fees.
Deposit Methods
Here are the deposit methods available on this sports betting platform and their details.
Deposits 
Method
Minimum
Fee
Processing Time
Debit/Credit Cards
$5
Free
Instant
PayPal/Skrill
$10
Free
Instant
Bank Transfers
$10
Free
Instant
E-Checks
$20
Free
Instant
Cash
None
Free
Instant
Withdrawal Methods
They are often slower than deposits and may take up to five days at Caesars NJ.
Withdrawals
Method
Minimum
Fee
Processing Time
Debit/Credit Cards
$5
Free
1–3 Days
PayPal/Skrill
$10/None
Free
Up to one day
Bank Transfers
$25
Free
3–5 Days
E-Checks
$20
Free
Up to one day
Cash
None
Free
Instant
Support When You Need It: Caesars Website Customer Service
Caesars sportsbook NJ customer service is available 24/7 and presented by a team of friendly staff who are always ready to help you. Their support team is accessible both on your desktop and on your phone.
You will find them by going to the help tab or clicking the tiny bubble icon in the lower-right corner. You can then explore the FAQ section or start a live chat with a team member.
Another alternative is to contact them via email (support-[email protected]) or by a 855 474 0606 telephone number.
A Comparative Look at Caesars' Sportsbook and Other Sportsbooks
Compared to other sportsbooks, Caesars NJ stands out for its extensive coverage of sports leagues worldwide, competitive odds, and generous welcome bonuses and daily promotions.
However, several other online sportsbooks are available to NJ bettors that can be used as an alternative to Caesar. BetMGM, for example, is known for its innovative features, like its parlay generator. It helps bettors by allowing them to create custom bets only by setting their desired odds.
FanDuel is another popular option that has a user-friendly interface and a wide range of betting lines.
DraftKings is also a well-known name and a strong contender that offers a seamless user experience and a wide range of sports to bet on.
In addition, these sportsbooks have welcome bonuses and promotions similar to Caesars' New Jersey sportsbook, making them a great alternative.
FAQ
Is Caesars NJ Sportsbook Legal in the State?
Yes, the sportsbook is legal in NJ. It is regulated and holds a New Jersey Division of Gaming Enforcement (NJDGE) license.
How To Use My Caesars Sportsbook Welcome Bonus?
You must apply your promo codes during registration. To use it, you must make your first bet with over $10. You qualify for the bonus only if you lose the first wager.
How Fast Does Caesars NJ Pay Out Winnings?
The payout will occur within a day if you use an e-wallet like PayPal. Traditional bank transfers are the slowest and can take up to five days.
Is the Caesars Sports Betting App in New Jersey Accessible Outside the State?
Their application is accessible from outside the state, but you cannot bet while outside NJ. To partake in any wagers, you must be physically present with your phone location turned on.
What Is the Current Caesars Sportsbook New Jersey Bonus Code?
As of 2023, the Caesars sportsbook promo code NJ is CZRFULL.
Written by: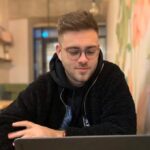 Stewart is an advantage gambler, author of reviews, and contributor at Luckynj.com. Reviews and guides written by Stewart are the perfect answer to all your questions.