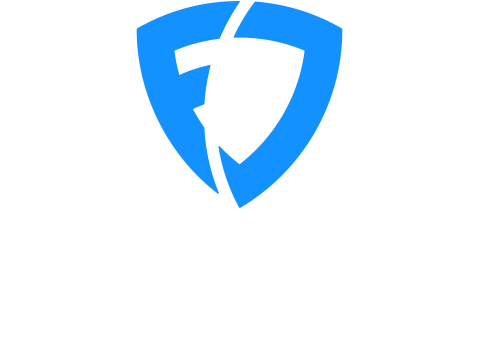 FanDuel Sportsbook New Jersey - Bonus Code for May 2023
Published: Apr 1, 2023
Updated: May 3, 2023
Get Up To $3,000 Back In Bonus Bets
Pros
+

Offers a wide variety of sports games and markets
+

Responsible gambling- you can easily set account limits (time, wager and deposit)
+

Offers Instant payment methods
+

Features high quality and user-friendly mobile app
+

Decent bonuses and rewards
Cons
⨯

Country and State Restrictions
⨯

Limited Availability markets
Screenshots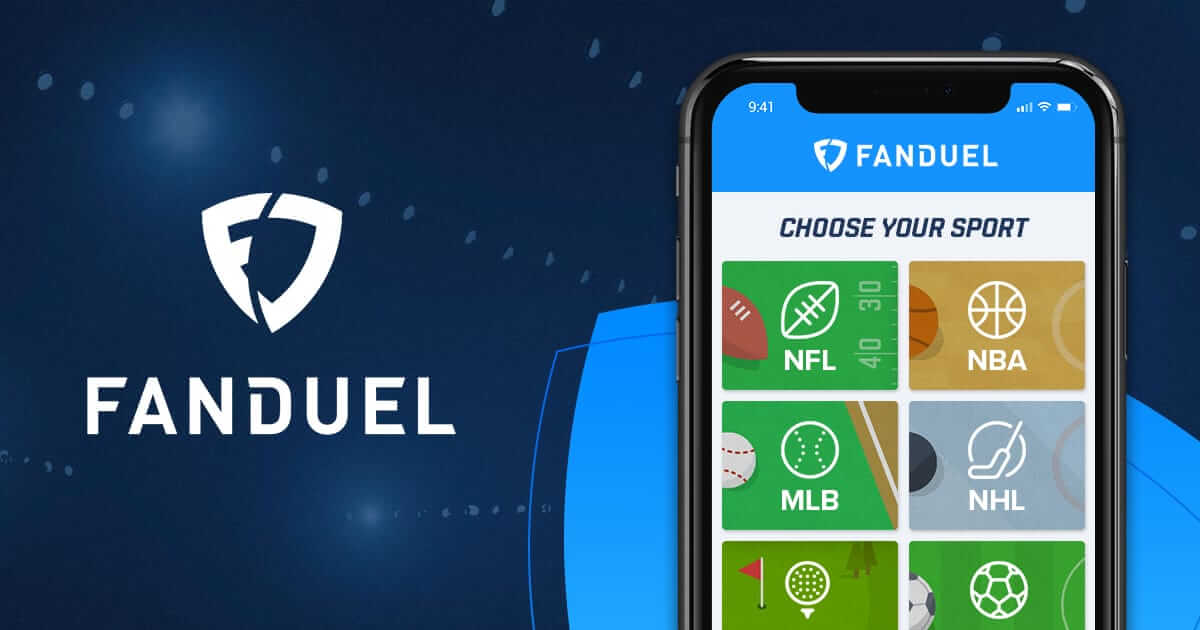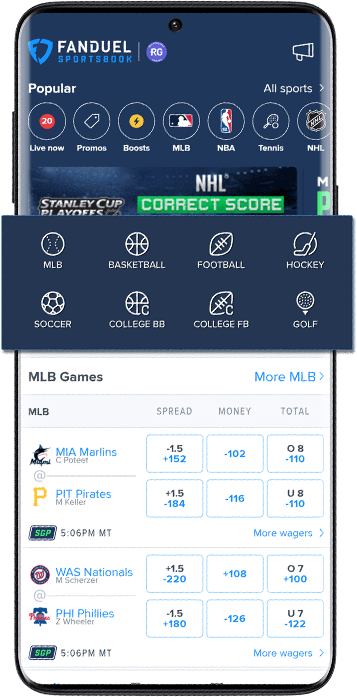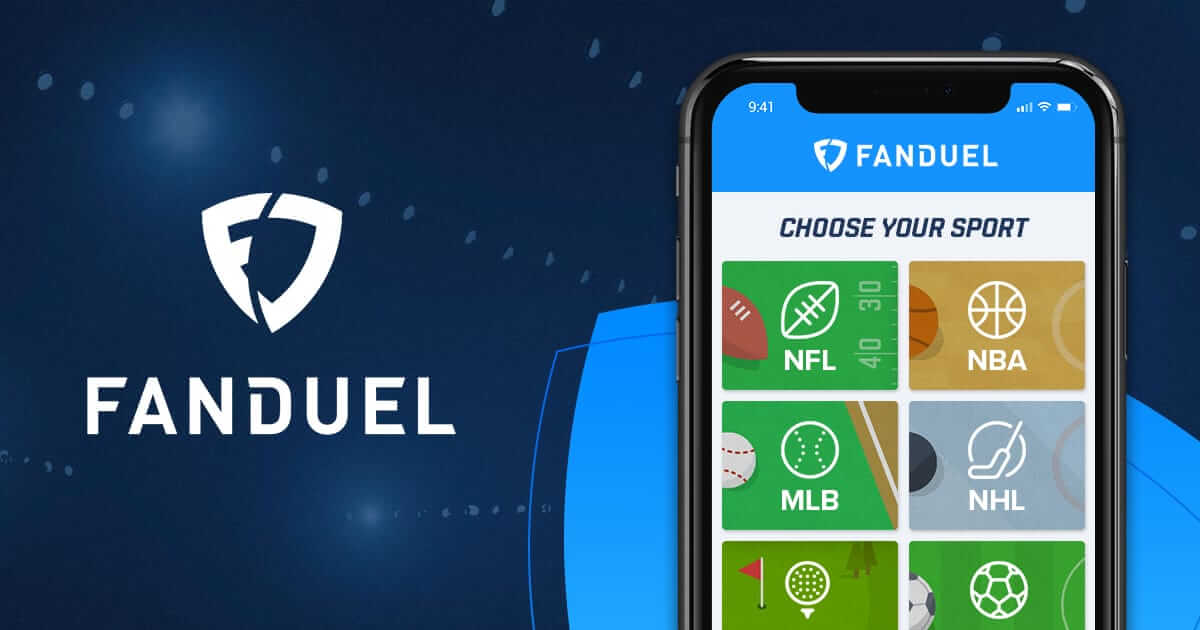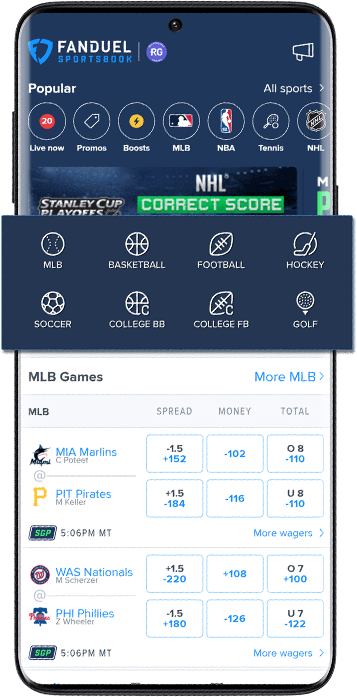 FanDuel Sportsbook in NJ is currently one of the most popular sports betting destinations in the US. FanDuel started as an online daily fantasy sports game provider in 2009. It has grown its interest in the gambling industry, becoming one of the best online betting sites in New Jersey. This famous Sportsbook is a product of Betfair Interactive US LLC (Betfair Interactive), based in New Jersey. It has a direct link to Betfair Casino if you want to play your favorite roulette and other online casino games.
FanDuel Sportsbook is under the jurisdiction of three states. Their online betting services are strictly accessible to players only in Indiana, New Jersey, and Pennsylvania. It is one of the legal sports betting sites in New Jersey. In this FanDuel Sportsbook online review, we have covered more information about game selection, mobile services, payment methods, promotions, and customer support.
FanDuel New Jersey Bonus Codes
| | |
| --- | --- |
| New Jersey FanDuel Sportsbook Promo Code | Details |
| Value | $3000 No Sweat First Bet |
| T&C | The promotion is only open to people who are 21 years or older and who live in New Jersey. You need to put down at least $10 as a deposit if you want to take part. You can use your Sportsbook Bonus Bets to bet on any game offered on the FanDuel Sportsbook, except for Round Robin and Same Game Parlay + wagers. |
| Last updated | 2023 |
Welcome Bonus
FanDuel Sportsbook will give you $3000 in free bets if your first bet does not win. To get this offer, sign up and deposit at least $10. Then, place your initial bet. If your bet does not win, you will get up to $3000 in free bets. To claim these bonuses for yourself simply register on FanDuel Sportsbook and make an opening cash stake worth at least five dollars. Your free bets can be used on multiple sportsbook lines so they don't need to all go on one big play.
The best thing about FanDuel Sportsbook betting bonuses is that when you lose the site will refund your bet amount in site credits. To claim this offer, you must be 21 years and above.
Live bets are only available to bettors from Pennsylvania, New Jersey, and Indiana. Qualified bettors need to sign up and use this offers as their first online wager, which is valid for seven days. It is essential to know that the refund site credit expires within 14 days.
You need to wager the same amount of site credit to withdraw your Risk-Free bet bonus winnings. The sports betting site supports Bonus code and promo code promotions.
When making your first Deposit, you can claim your Risk-free bet bonus using "BESTPROMOCODE", one of the promo codes FanDuel Sportsbook on offer.
Daily Bonus
This US betting Sportsbook has an opt-in 10% Return bonus of up to $50. From this promotion, you can get a site credit bonus equal to 10% of your daily net losses or winnings.
Money-Back Bonuses
In this betting Sportsbook you'll get two money-back offers, Multi-Sport Parlay Insurance and Casino (Play Your First Day Risk-Free Up to $200).
Multi-Sport Parlay Insurance
You qualify for a Multi-Sport Parlay Insurance money back bonus when you place a parlay of 5 plus legs in any sport and market. If you are lucky to hit all legs except one, then you get a refund of up to $25 per eligible wager.
It is essential to know that every FanDuel Sportsbook account holder has four eligible wagers per day. What's more, these promotions do not apply in the round robin, and teaser betslips. Also, each leg of parlay must have odds greater than or equal to -200 (odds of -50, -100, +100, +150 and among others).
Casino
This Sportsbook offers a Risk-Free bonus of up to $200 playable on Betfair casino. For the losses you incur in your first 24 hours of play at the casino, you get a 100% refund.
NJ FanDuel Sportsbook Loyalty and Reward Program
According to reviews, bettors get FanDuel Points each time they participate in paid-entry contests. The number of points you accumulate in a month determines your player status in their ten-tier level program.
Each level attracts free freeroll contest entries: as you go up the levels, the prize pool increases. FanDuel points can be redeemed and used to claim entries into paid contests, or you can purchase exclusive swag and gear from the FanDuel player store.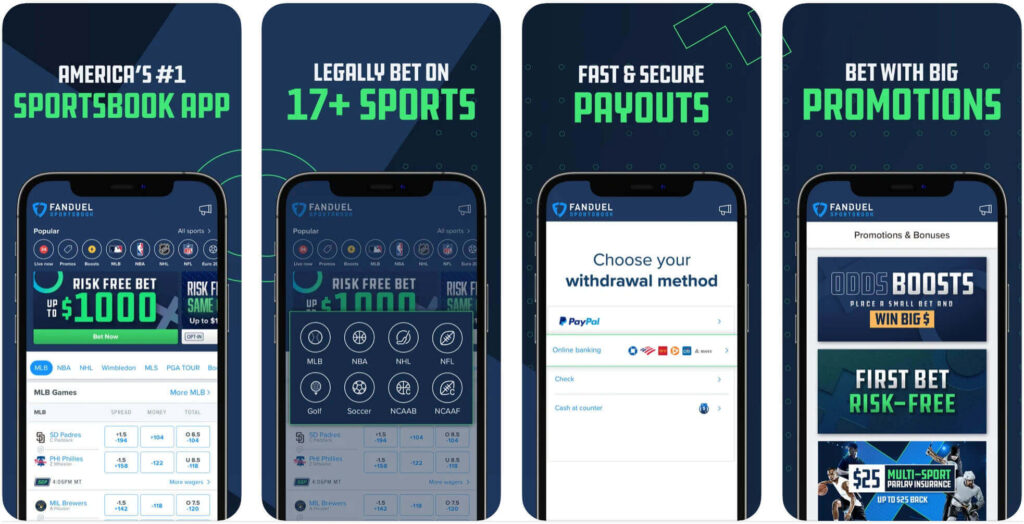 Game Selection
The FanDuel Sportsbook playbook consists of all major U.S. sports markets such as basketball, golf, tennis, soccer, motorsports or auto racing, professional or college football, hockey, boxing, baseball, and mixed martial arts (MMA). These markets come with their betting rules and FanDuel odds.
In the Review of FanDuel Sportsbook NJ, we found that the site allows you to bet in LIVE and upcoming events. You can wager on famous sports tournaments or leagues such as NFL, UFC, MLB, NBA, NHL, Formula 1, and NASCAR.
How to NJ FanDuel Sportsbook Login Quick And Properly
Go to the FanDuel site, pick your state, and find the "Join" button on the top right of the page. Click on it. You will be redirected to the first step of the registration process. In this step, you need to fill in your email address, pick a username and create a password. Click on the "Create account" button to proceed to the next step.
In step two you are asked to give such information: your full name, address, phone number, date of birth, and four last digits of your Social Security Number. Click on the "Create account" button again and wait for the verification letter in your email box. That's all that is needed to create the account.
How to Bet at FanDuel Sportsbook in New Jersey
Sports You Can Bet on at FanDuel
If you want to bet on such sports as NFL or NBA, you would enjoy FanDuel. However, these sportsbooks offer all possible sports for betting. For your convenience, the main menu of this sportsbook is divided into two sections. The first section is named "Popular", where you can find sports grouped with different filters like upcoming events and ones with promos. The second section is named "All Sports" and is simply a list of sports available for you.
You can bet on: baseball, boxing, cricket, cycling, darts, football, golf, ice hockey, MMA, motorsport, rugby, snooker, tennis, table tennis, and horse racing.
How to Use FanDuel For Betting
FanDuel is fully aware that placing a bet can be a tricky task, especially if the gambler is new to the site or app navigation. That is the reason why this sportsbook offers a user-friendly interface that eases the process of betting. After picking the sport you want to bet on, you are redirected to the betting lobby.
After choosing the name of the team or the name of the athlete, click on the odds. You will see how your bet goes to the betting slip – a handy editable list of your desired bets, where you indicate how much money you want to wager. For your convenience, you will see a potential return immediately right on the slip. If you are sure about your wishes, approve your list by clicking the "Submit to place my bets" button.
Now, you can use this betting slip as a place to track your wages during the game. Sometimes, Fanduel proposes to cash out your return before the settlement, so check your open bets.
Usually, gamblers tend to bet spread bets, totals, or money lines for team sports, so you will see these bets on the top, but feel free to click on "More wagers" to explore other options.
The special feature of FanDuel that is the biggest advantage of this sportsbook for many gamblers is same-game parlays. In most cases, this guarantees you the bigger possible revenue.
Betting Options at FanDuel New Jersey
Totals (over/under for teams, quarters, halves, etc.)
to bet on the merged score of the game
when you pick your favorite and take away the spread number or the underdog plus the spread number
all you need is to pick the winner of the game
when you are placing a couple of wagers on the same slip
Props (player, team, and scoring props)
when you bet on the stats of the player and/or other game events
possibility to bet in real-time
when you wager on a playoff-based or a season-long outcome
when you switch the total line or the spread
a parlay that lets you chain multiple props for the same game
when you change the spread on two or more games, and your odds adjust to your changes.
Cashout Features of  FanDuel NJ
FanDuel Sportsbook has an irreversible Cashout feature. However, not all wagers are eligible for functionality.
Cash Out is a feature that lets you decide when to stop betting. It can be used when you have placed a bet on an event and want to make sure that you get some money back, even if it isn't as much as you would have won without cashing out.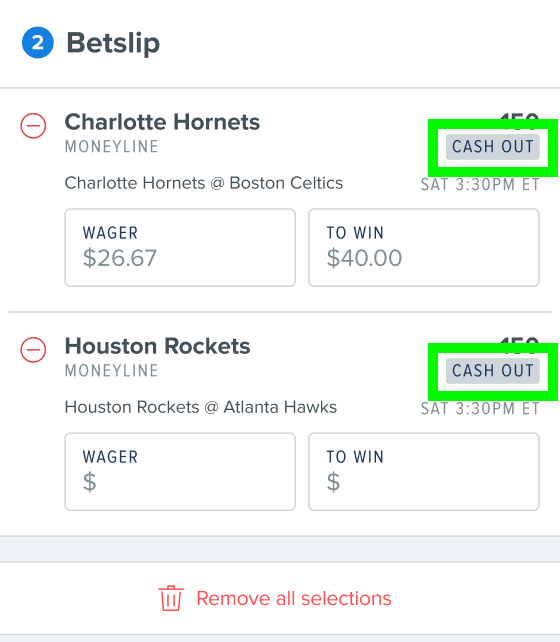 To use the Cash Out feature, look for the gray text with "CASH OUT" next to wagers and props. When you place your bet, you will be offered a "Cash Out Value," which you can find in the "My Bets" tab at the bottom of your screen.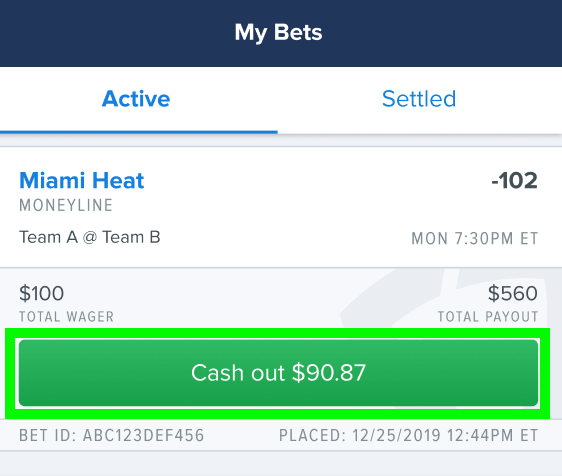 Remember that this value changes during the game, so make sure to check it before deciding whether or not you want to cash out!
In-play Betting at FanDuel  Online Sports Betting
This betting opportunity is made for those bettors who missed the wager on the team or the athlete before the game starts. FanDuel gives you the possibility to place your bet during the game! You have multiple betting options to choose from:
Point Spreads
Alternative Point Spreads
Moneylines
Totals
Because FanDuel continuously updates odds before and during the game, you can place the most accurate bet as it is possible. Rules to bet live are the same, so you can place your bet, see the odds, and your possible revenue on the betslip.
Legal Status of FanDuel Sportsbook NJ
FanDuel Sportsbook is among the first sports betting sites that entered the New Jersey sports betting market after online betting became legal in 2018. It is operating under license in accordance with the State of New Jersey, Division of Gaming Enforcement.
To provide safe and secure entertainment, FanDuel uses different security technologies, so that your data is free from stealing or being read by third parties.
FanDuel also pays attention to checking whether their gamblers are older than 21, are located in New Jersey, and are not their employees not to jeopardize the transparency of the gambling.
Comparison of FanDuel App to Other Legal Sportsbooks
FanDuel NJ has highly professional and strong competitors in the NJ market of sports betting. Such operators like DraftKings, Caesars Sportsbook, or BetMGM offer the best betting experience in the country.
Among the advantages of FanDuel are:
the best revenues;
deep connections with the major sports leagues;
high-quality user experience;
offers the same-game parlay feature which helps build multi-leg wagers.
Among the disadvantages are:
if you are interested in sports that are not part of the "Big Four," other sportsbooks can be a better option for you;
you can find sites with better lines with lower vig.
If you are looking for the best welcome bonuses or promotions for loyal gamblers, all NJ sportsbooks tend to be generous and creative in this regard. So, the best idea is to check promotions regularly.
How Can FanDuel Be Improved?
Also, we would like to wish FanDuel sportsbook NJ to build better connections with other American sports – the ones that are outside the four major leagues – to offer its gamblers better and more nuanced odds.
Review of The FanDuel Mobile App

FanDuel Sportsbook sports betting services are available on Android mobile devices. You can only download the app from fanduel.com since Google Play Store does not host wagering apps. This application is available in two software versions: Android 8.0 and higher or Android 7.0 or lower.
Google and LG users can access and download the FanDuel Sportsbook app from the website using Firefox web browser, which you can download from the Play Store. Samsung users can download the software directly from their app installer page using the default Internet Browser on their phones. The mobile services are also available on iOS devices. From your iPhone or Apple device, you can download this particular FanDuel Sportsbook app from App Store.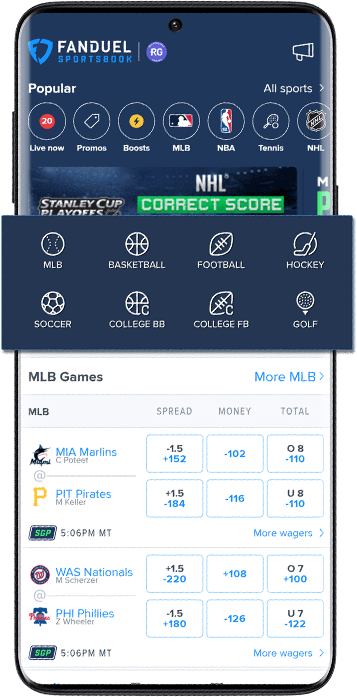 To compete with other sportsbooks, FanDual sportsbook NJ app offers some inclusive features that make betting much easier.
Firstly, after downloading the app and registering for it, you can visit a "Sports Betting Training Camp", which can be found in the app's menu. This camp offers you short but informative tutorials that explain differences between bets, how to read odds correctly, and some tips to wager strategically. Second, the app analyzes your habits and interests, so that it can show sports or teams that are of priority to you. In conclusion to this FanDuel sportsbook NJ review, we can say that this app is being developed constantly to make your user experience intuitive and handy for you.
Banking Methods For FanDuel Sportsbook in New Jersey
Deposits
Deposit methods for FanDuel differ in each state, so it would always be better to check first. Right now, New Jersey FanDuel sportsbook offers
credit and debit cards issued by Visa, MasterCard, or Bank of America.
The minimal deposit is $10, your money is instantly processed, and no transaction fee is required.
You can deposit starting with $10, an instant transaction without fees.
You can deposit at least $10 with no transaction fee. Money will be instantly sent to your betting account.
You must deposit at least $10, instant transfer with no transaction fee.
Depending on the value of the card, instant transfer, no fees
Depositing starts at $10, takes 3-5 business days for the money to be transferred to your account, and no fees
The minimum deposit is $10, with no fees and instant transfer
Instant deposit with no limits.
Withdrawals
FanDuel Sportsbook only allows bettors to withdraw their promotional winnings after making a minimumDeposit of $10 in their accounts. FanDuel accepts cash withdrawals via PayPal, prepaid card, Cash at Counter, Check or ACH or eCheck – only if you have used all of them as your previous deposit methods.
At FanDuel Sportsbook, Deposit and withdrawal requests have a 12-hour processing time and come at no cost.
The Payout speed using PayPal is 1 hour.  If you are looking to make a withdrawal via ACH or eCheck or check, then you will have to wait for 3 to 5 or 7 to 10 business days, respectively.
In this FanDuel review, we found that there is a standard daily, weekly and monthly payment limit of $2,000, $4,500 and $10,000, respectively.  The US-based sports betting platform uses US Dollars as its primary currency.
Customer Support Service
This Sportsbook features an FAQ section in its website. In case you are not satisfied with the answers on their FAQ, you can contact customer support via Email and Live chat.
It so appears that only account holders can access phone and 24/7 email or Live chat expert support services. According to the website's social link section, it appears that you can also reach out to them via their Facebook and Twitter accounts.
Responsible Gambling at FanDuel Sportsbook
FanDuel takes the question of responsible gambling seriously. That is why you can find useful information and resources to increase your awareness and understanding of gambling abuse.
This operator also provides links and contacts of organizations that can help professionally. FanDuel also advises you to use these simple tools: to put limits on the time you want to spend betting or on the money you can deposit; to take a timeout, or to do self-exclusion, to use this tool you need to contact the support, and they will ban your account and will stop sending you advertisements and FanDuel NJ promo materials.
Conclusion
FanDuel Sportsbook NJ is a good place for people who like to gamble. They offer good bonuses, rewards, and odds. We think it is a good place for people in Indiana, New Jersey, and Pennsylvania to gamble. Fox Bet is another good sports betting site that has a bright future ahead.
FanDuel Sportsbook FAQ
Is FanDuel sportsbook legal in New Jersey?

Yes, it is. If you are older than 21 and are a resident of New Jersey, you can enjoy betting on sports legally and safely with FanDuel.
How can I download the FanDuel app on iOS/Android?

Unfortunately, Google Play blocks gambling apps, so if you are an Android user, you should go to fanduel.com and download the app via the direct link. If you have an iOS gadget, go to the Apple Store and download the Fanduel app.
f I move to another state, can I bet on the account created in NJ?

Yes, you can, if online gambling is legal in the state where you have moved.
Do I need to be a resident of New Jersey?

Yes, you have. During the registration process, FanDuel asks you to provide the four last digits of your Social Security Number. By providing it, you are proving to the operator that you are older than 21, and that you are a resident of NJ.
Written by: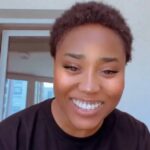 Jeannie is one of our top writers and experts at Luckynj.com. She is an avid poker player, and her skills have seen her finish in the money many times in tournaments. She is always happy to share her knowledge with anyone who wants to listen.