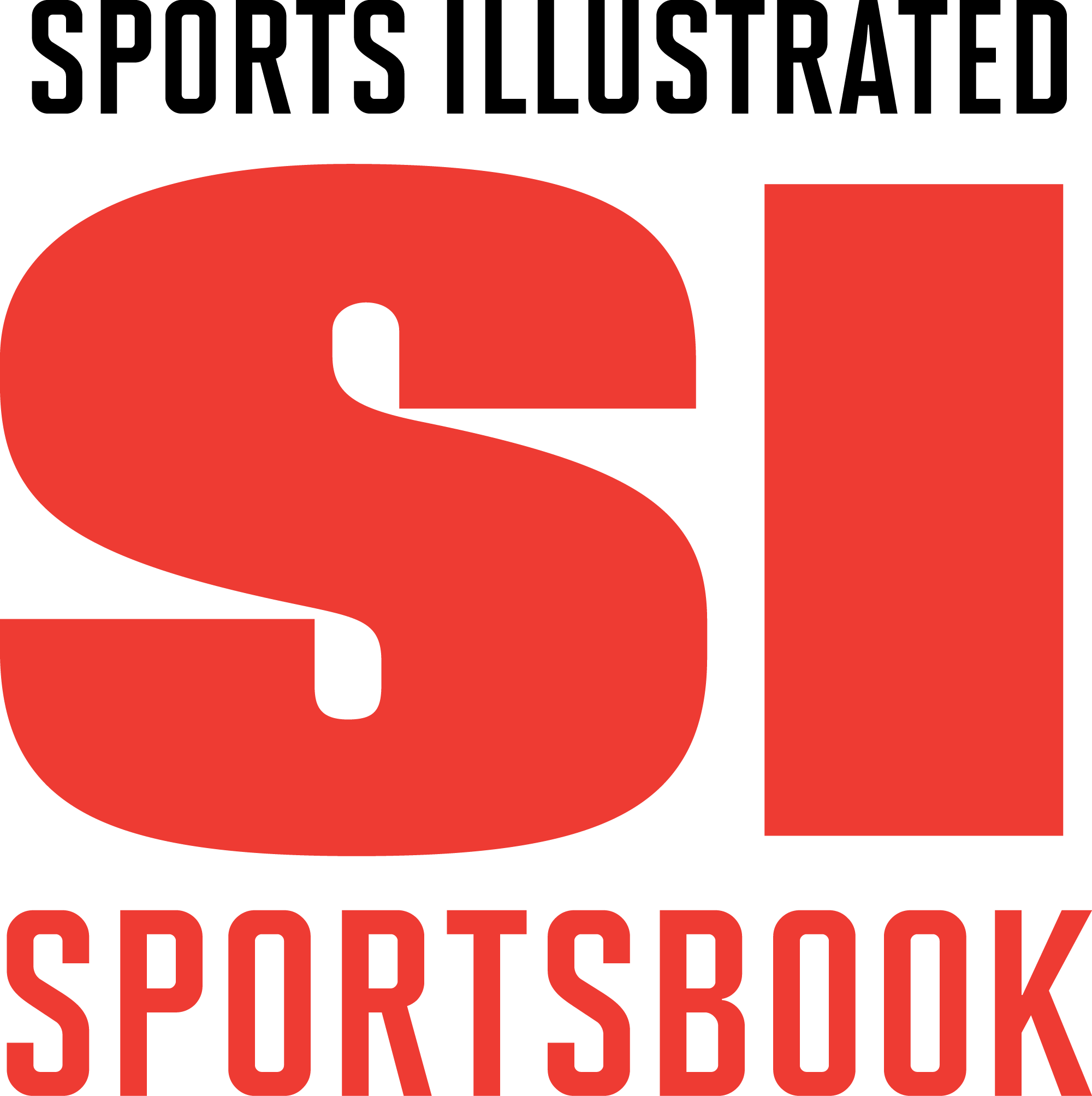 SI Sportsbook Promo Code
Published: Mar 7, 2023
Updated: Mar 21, 2023
$200
Sports Illustrated Sportsbook, or SI Sportsbook, is a gambling site from the famous magazine Sports Illustrated. It's available in New Jersey and several other states and has a website and apps to download.
For people in New Jersey looking to do some sports betting, SI Sportsbook will be a great choice thanks to its betting options and user-friendly design. Join this online sportsbook, and you'll have the chance to earn $200 worth of free bets as a new member.
This review provides a complete summary of what the site has to offer. It gives you an idea of what the site is like, so you can decide whether it suits you. From creating your SI Sportsbook account and claiming the welcome bonus to betting markets and customer service, this review covers everything you need to know about the site.
Claim a SI Sportsbook Promo Code in 2023
SI Sportsbook Promo Code
SI200
Welcome Bonus
Bet $20 And Win $200 In Free Bets
How to Qualify

A minimum deposit of $20 is required, and the minimum odds must be +120. This promotion is open to customers aged 21 or over who are located in Colorado, Michigan, or Virginia – use promo code SI200 when placing your bet. Free Bet Tokens will be credited once the bet has been settled; they expire after seven days, and stakes are not included in any winnings.
Full T&C apply.

Eligibility
21+; Located in CO, MI, or VA
If you want to earn some free bets, all you have to do is create an account and make a deposit using a promo code. This special code, SI200, entitles you to the site's welcome bonus.
All that's required from you is to type it into the required field – or copy and paste it – and the reward will be yours. Continue reading to learn exactly how you can get your hands on the site's welcome bonus.
SI Sportsbook's Welcome Bonus for New Members
There are two welcome bonuses at SI Sportsbook. The main one gives new members a chance to win some free bets. The other rewards them with a Sports Illustrated magazine cover.
This promotional offer is only for members who are creating a brand-new account; you can't claim it if you've already signed up.
How does the site's welcome offer work?
Below is a step-by-step guide to claiming the site's welcome bonus.
Head to the site and fill out the registration form.
Fund your account and enter the promo code SI200.
Place your first bet. This has to be at least $20 with odds of at least +120 to qualify.
If this bet wins, you'll earn $200 in free bets.
You'll receive your free bets up to 72 hours after your first bet is settled. They're credited as eight tokens, each worth $25, and they expire after seven days.
Only your first deposit can qualify for this promotion. You have to be physically located within one of the states where the site is available to claim and spend the bonus.
For the other welcome bonus, the magazine cover is valued at $200.
To qualify, deposit using the code COVERS200 and wager $20 on an event with odds of -200 or greater. If it wins, you'll receive the cover.
Current SI Sportsbook Promotions
There's only one current promotion for existing members. It works in a similar way to the SI Sportsbook bonus for new players that awards them with a magazine cover. To qualify, you have to do the following:
Make a deposit with the promo code SICOVERS100.
Place 22 bets, each worth $10 or more and with minimum odds of -150 or higher.
You'll earn a $100 gift code by email once your bets have settled.
The email will come with instructions on how to redeem your code.
The cover you receive from this promotion is worth $100. Each member can only take part in this promotion once. After your bets settle, it will take up to seven days for the gift code to reach you.
The site doesn't seem to have any other special offers, such as daily promotions or limited-time rewards.
Is SI Sportsbook a Legal Website?
For an online sportsbook to operate in the US, it needs to have a license. Each state gets to determine its own gambling laws.
The state of New Jersey is one of several to have recently made online sports betting legal. For a site to legally offer the ability to bet on sports, it needs to have a license from the New Jersey Division of Gaming Enforcement (NJDGE).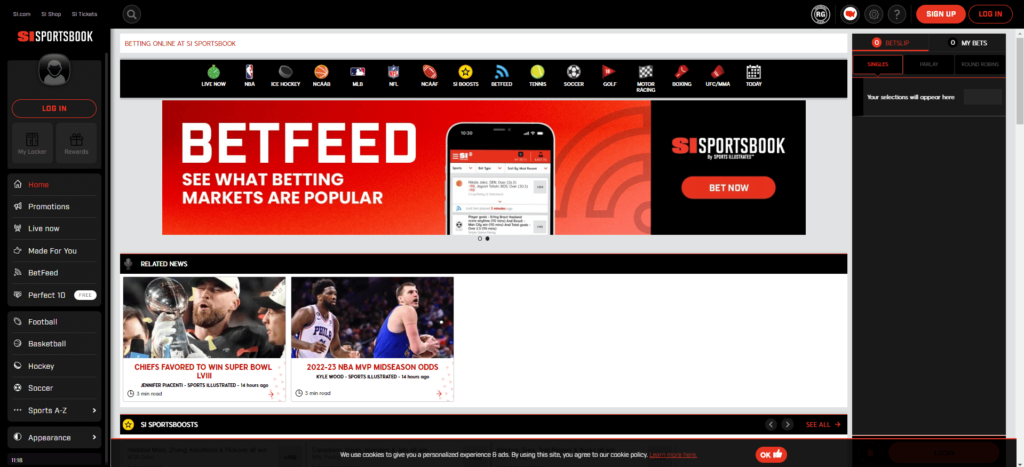 SI Sportsbook is legally permitted to operate in New Jersey, having met all the requirements.
How to Create Your SI Sportsbook Account
To create an account with SI Sportsbook, follow the steps below:
Head to the website.
Click the red Sign Up button in the top right-hand corner.
Confirm you're in one of the states where the site is available.
Fill out the registration form, supplying personal details, such as address, date of birth, name, security question, phone number and last 4 digits of your Social Security number.
You'll also have to provide an email address, username and password for your account.
Click to confirm that you agree with the terms and conditions.
Give the site permission to know your location, so it can confirm you're in a state where SI Sportsbook is legal.
Once you've done all this, your account will be set up. To activate your account, the site might ask you to click on an email link.
The SI Sportsbook App
For mobile users, there are two options: you can access the SI Sportsbook site through your device's web browser or download the app. If you decide to install the app on your phone or tablet, you'll need enough space for it.
Your device will also need to be connected to the internet in order for the app to run.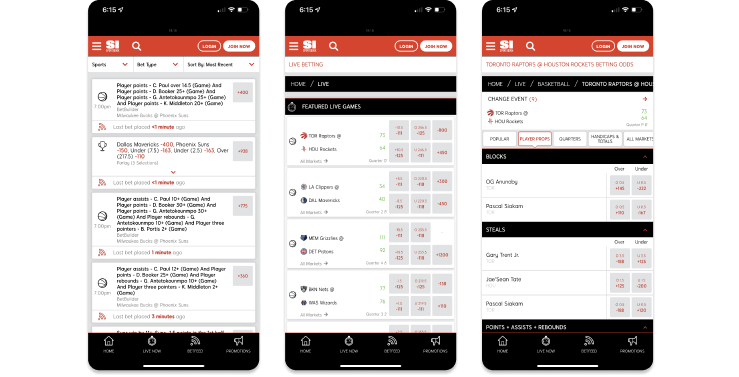 Lastly, you'll have to be in a state where the site is legal to access the app. It uses geotagging to track your location, so if you enter a state where the sportsbook isn't legal, the app will stop working.
You'll find the app available on both Google Play and the App Store. It's, therefore, compatible with both the Android and iOS operating systems.
Head to your device's app store, search for SI Sportsbook and download the app. Alternatively, visit the mobile site through your web browser and at the bottom of every page, you'll see links to download the app.
The app is designed to offer a smooth, reliable mobile betting experience. It's very similar in design and layout to the 888 sports betting app, which is highly rated. Therefore, users of the SI Sportsbook app shouldn't have any major problems.
SI Sportsbook: Pros and Cons
SI Sportsbooks, like other gambling sites, has plenty of advantages and some disadvantages. Below is a summary of these.
Pros
Apps for both iOS and Android devices
Good range of payment options accepted
Plenty of top betting markets
Live betting available
Cons
No live chat or phone line
Withdrawals can take quite a while to reach you
Not that many promotions
No loyalty scheme or VIP club
Bets You Can Place at SI Sportsbook New Jersey
Like other online betting sites, SI Sportsbook lets punters place many different types of bets. Some of these are described below:
Accumulator. This is a bet made up of multiple selections. Each individual selection must win for the accumulator to pay out. The more there are, the riskier the bet but, the higher the potential win.
Future. For this type of bet, you're predicting the outcome of an event that's happening many months in the future. An example would be betting on the Super Bowl winner before the season actually starts.
Moneyline. You simply bet on a winner, and if the team/competitor you back wins, you'll get paid. Favourites have negative odds, and those less likely to win have positive odds.
Props. There are lots of prop bets, and what they have in common is that they're not related to the outcome of an event. Instead, they focus on things happening during the event. Examples include a team earning a certain number of points, a team not letting in any goals, and the first team to score.
Totals. For this, you're betting on the combined score of a game. The site sets a number, and you're predicting whether the two teams' scores will be above or below this.
Each bet displays its betting lines, also known as odds. These, along with your wager, determine how much money you stand to win should your bet be successful. Before you confirm your bet, the site will show you exactly how much you'll be paid for winning.
SI Sportsbook Betting Markets
The site's list of betting options covers 22 markets. These include lots of popular sports, along with e-sports, which are video game tournaments.
On the left-hand side of the betting area, the site's four biggest markets are listed. These are:
Basketball
Hockey
Football
Soccer
Click the Sports A-Z button to bring up a list of all the available betting markets. Some of the many options not listed above include:
The SI Sportsbook odds are quite competitive across the board. Whether it's NFL odds or prices for bets on hockey games, you should find you'll get a good deal at this sportsbook.
Overall, the range of betting options is pretty good. All the major sports are covered, and there's even the opportunity to bet on e-sports, which not many other USA online betting sites offer.
For just about every market, you can bet on a wide range of events. These include international tournaments, national competitions and state-level matches.
To make your betting experience more engaging and immersive, take advantage of the site's live betting options. With this, you're able to watch a live stream of the match you're betting on and wager on it as it progresses.
Live betting is available for some of the site's biggest betting markets, including basketball, soccer and tennis, among others.
Payment Methods to Use at SI Sportsbook
The site accepts 10 payment options. You can use some of these for both deposits and withdrawals, though some are for withdrawals only.
Deposit Options
The table below lists all of the deposit options you can choose from.
Deposit options you can use for withdrawals too
Deposit options you can't use for withdrawals
Visa debit cards
Mastercard debit cards
Visa credit cards
Mastercard credit cards
Bank transfer
Play+
Discover
Instant bank transfer
PayPal
PayForMe
The minimum deposit amount is $10 for all options except PayPal, for which the lowest amount is $35.
Withdrawal Options
As you can see from the table above, the withdrawal options are Visa and Mastercard debit cards, bank transfer, Play+ and PayPal. It takes up to three working days for the site to process withdrawal requests.
If you're using a bank transfer, SI Sportsbook needs only two days. The site doesn't mention what the withdrawal limits are.
| | | | | |
| --- | --- | --- | --- | --- |
| Payment Method | Awaiting Process or Accepted | Processed | Total | |
| Bank Transfer (ACH) | 1 hour | Up to 2 days | Up to 2 days | SI Sportsbook |
| Play+ | 1 hour | Up to 3 days | Up to 3 days | SI Sportsbook |
| PayPal | 1 hour | Up to 3 days | Up to 3 days | SI Sportsbook |
| Visa Debit Cards | 1 hour | Up to 3 days | Up to 3 days | SI Sportsbook |
| MasterCard Debit Cards | 1 hour | Up to 3 days | Up to 3 days | SI Sportsbook |
SI Sportsbook's Customer Support Options
Should you have any issues or questions, check the online help center. Here there are dozens of questions and their respective answers, covering just about every aspect of betting at SI Sportsbook.
They come in eight main categories, including Bonus & Promotions, Games and Technical Issues.
If you don't find the help you're after here, click the Contact Us button. You'll then be taken to a page with an email form to fill out. It doesn't say how long it should take for a reply to come.
You can reach the Customer Support team by clicking the "Help" button in the Cashier or calling 1-833-451-8003 (Toll-Free) between 6am and 10pm MST.
You can also email at [email protected] for any inquiries you may have.
A Brief History of SI Sportsbook NJ
SI Sportsbooks is one of 27 online sportsbooks available in New Jersey. In 2013, the state legalized gambling at online casinos. It wasn't until 2018 that sports betting (both online and offline) became legal.
New Jersey is one of a growing number of states to legalize various forms of gambling so that revenue can be made from it.
The Sports Illustrated magazine was first published in 1954. Today, it has a circulation of approximately 1.6 million.
The brand partnered with gambling company 888 to launch the Sports Illustrated betting site in Colorado in 2021.
The following year, the site became available in Michigan and Virginia, with plans to launch in several other states, as well as New Jersey.
Other New Jersey Betting Sites
If you want to try some other legal sportsbooks in New Jersey, the following options are worth considering:
BetMGM. A very user-friendly online betting site offering a wide range of markets to bet on, with live-streaming available for select markets. There are several regular promotions, such as some loyalty bonuses you can claim every week.
FanDuel Sportsbook. This online sportsbook has been operating since 2018. It offers a broad selection of betting markets and has competitive odds. There are currently 18 states, including New Jersey, where you can access FanDuel on computers or mobiles. Among its features are same-game parlays and live-streaming for top sports.
PointsBet. A popular betting site that's known for its many promotions and bonuses. Some of these are increased odds, boosted parlay payouts, bonus funds and loyalty points. There's also PointsBetting, where you stand to win big if your team does, though this betting option can be risky.
FAQ
Is SI Sportsbook a legit betting site?
SI Sportsbook is indeed legit. It's currently legal in three states – Colorado, Michigan and Virginia – and is licensed by the Colorado Limited Gaming Control Commission.
Do I need to be in NJ to visit SI Sportsbook?
To visit the Sports Illustrated sportsbook NJ site, you need to be physically located within a state where the site is legal. So long as you're in the state of New Jersey, you'll be able to log in and place real-money bets.
Is there a SI Sportsbook app?
There is indeed an SI Sportsbook sports betting app, and it's available on iOS and Android devices. You can download it from your device's app store or by visiting the SI Sportsbook website and clicking the link at the bottom of the page.
Is live betting available?
The site does offer live betting. This is where you place bets on an event once it's begun. It gives you a more exciting, unpredictable betting experience than placing wagers in advance.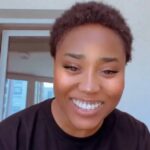 Jeannie is one of our top writers and experts at Luckynj.com. She is an avid poker player, and her skills have seen her finish in the money many times in tournaments. She is always happy to share her knowledge with anyone who wants to listen.