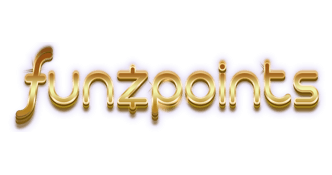 Funzpoints Casino
Published: Sep 1, 2022
Updated: Sep 23, 2022
$2.50 bonus + 1,000 Funzpoints
Screenshots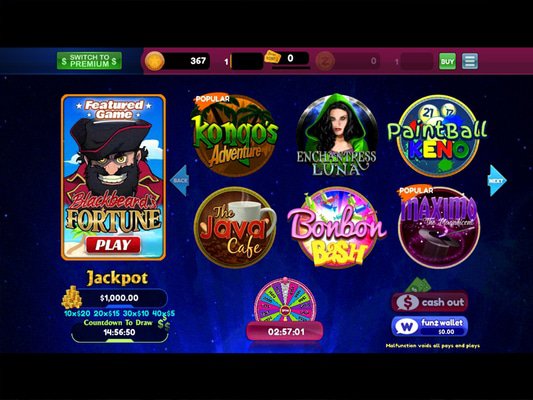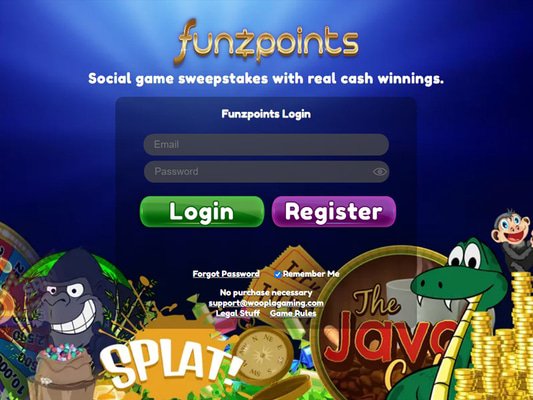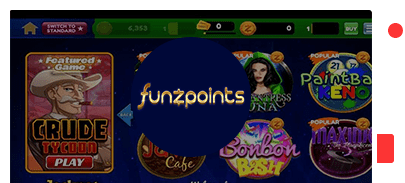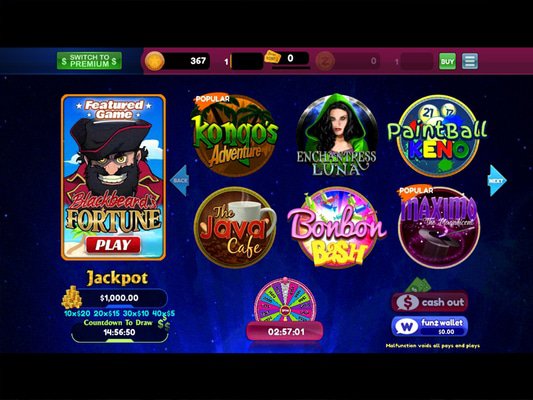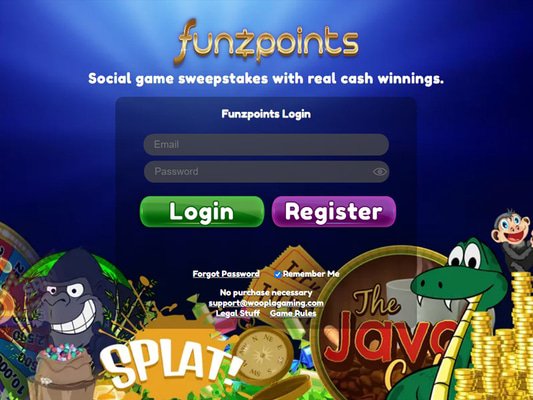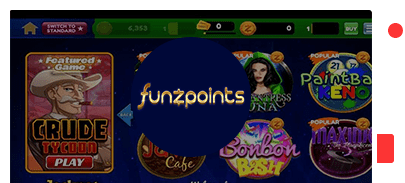 Funzpoints is an social online casino where you can play slots games for free or for real money. The site has a built in wheel that you can spin every 3 hours to win up to 10,000 points. You can also purchase credits which will give you access to a $20 matched deposit bonus.
There is also a daily sweepstakes jackpot draw of $350. Lastly, there are plenty of weekly promotions to keep you coming back for more.
Read the full Funzpoints Casino review to learn all about this new sweepstakes site that has become the best social casino in the US. You'll learn everything you need to know to start playing and winning on the site.
Funzpoints Casino Games
The game quality at Funzpoints casino in NJ is highly rated. Games can be played in standard mode or premium mode. For instance, the standard mode allows a player to play for free, with the games being paid out in tokens. But for the premium mode, the games would be played out in real cash. With a standard mode set up you a player can access the following slots. These slot games include:
Bonbon Bash
Kongo's Adventure
Voyage of the Vikings
The Java Café
Enchantress Luna
The games can be accessed with the standard mode. However, for more games, the player would need to make a purchase for access to be granted. That is the premium mode. Other games include:
Gold Rush Pete
The Big Dive
Criminal Cash
Scatters in Space
Chillin' While Grillin'
Chase the 8s
Due to the structure at Funzpoints, there is a new game title every 30 days. This is to ensure that players never have a dull moment and are always fully engaged. Also, it makes the player curious and stays in anticipation of the next new game. Remember that all games at Funzpoints have a 96.5% return-to-player rate.
Funzpoints Casino Software
Funzpoints casino has one of the best software providers. This makes the gaming experience of a player very delightful. The user-experience is one aspect of the game that can tell if your players would remain at the casino. Woopla Inc offers the best software for Funzpoints members.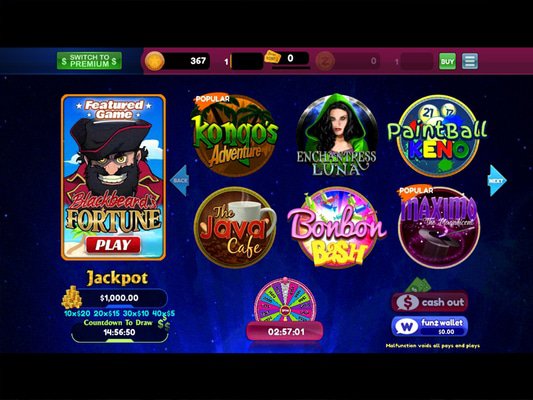 Funzpoints Casino Mobile
Funzpoints casino is one of the most advanced casinos out there. It uses great software that makes it easy for players or members to use. You can access Funzpoints casino on websites or through an app, and it works well on mobile devices like iPhones and Androids.
When you're logging in on a mobile device, be sure to put it in landscape mode for the best performance; this will save you from any glitches while you're playing. In short, Funzpoints casino can be accessed on all sorts of devices, and it's easy to use no matter what mobile platform you're on.
Funzpoints is a website on which you can play games to win prizes. There are two options to choose from, standard and premium. The website is easy to use and navigate, with a menu that has all the different sections you can explore. At the top of the screen, there is a current points counter that shows how many points you have. You can use these points to buy tickets for the jackpot draw. The left side of the screen highlights the latest games and also has a countdown to the next jackpot draw. In the middle of the screen, there is an arrow that you can use to scroll through all the different games. If you have any questions, there is also an FAQ section that you can refer to.
Funzpoints Promotions

NJ Funzpoints promotions are not to be ignored or neglected. Some of the best Incredible promo offers are available at Funzpoints. For instance, new members are welcome with a $2.50 (250 free spins) offer in premium Funzpoints. This is a no deposit offer, which is further supported with up to $20 if the player makes the first deposit. There is no need for an NJ Funzpoints promo code or a New Jersey Funzpoints bonus code to get this welcome offer.
Also, a $350 Sweepstakes jackpot can be gotten to enjoy some games. These sweepstakes do not need any deposit. They can be converted to real money when they are won. There are also weekly promotions that are also available. Every player can add up to 10,000 points to their wallet when they spin the Funzwheel at 3 hours intervals. During the holidays, there is a promo that offers three times what you purchase on a $9.99 or $19.99 purchase. $5 is offered on Sunday Funzday when you purchase premium points for the day.
Funzpoints Casino Welcome Bonus
As a new member of the casino, you are welcome with a free $2.50 bonus. This does not need any deposit to be accessed, and 1,000 Funzpoints are also added to that amount. It is a no deposit offer to every new member of the casino. Interestingly, when a new member makes his first deposit, it is given a 100% match up to $20.
Loyalty Programs
The VIP loyalty programs offered at Funzpoints has some perks. Funzpoints offers in New Jersey is one of the most inviting and captivating. A player can become a member of the Loyalty Program when he has made a purchase of $4.99 or more at the casino. The Loyalty Program doesn't just give you access to real cash games; you would have some perks like 'no ads when you are playing games,' 'access to where the trophy is being kept,' and many more privileges.
Funzpoints Casino Banking

Payment options at Funzpoints are quite numerous. Some payment options include Visa, MasterCard, Bitcoin, Paynearme, online banking, Paysafe, and bank transfers. These are some of the best and safe ways of making payments at Funzpoints casino. Also, note that it would be impossible to make a payment if the profile of a player is not yet completed.
The payment option 'buy button' would be magically unavailable to the player. All these are to ensure that the guidelines or protocols are duly followed. Interestingly, the speed of withdrawing is based on the payment option selected. Certainly, one factor that might bring a little delay is when issues are surrounding an account. Always bear in mind the terms and conditions of a casino before you engage them fully. The minimum amount to be deposited is $4.99, and $20 is the amount that can be least withdrawn. At a single transaction, $2,000 can be withdrawn.
Customer Service & Security at Funzpoints
As a sweepstakes operator, Funzpoints is legal in the US. This means that as long as you are 18 years old or older, you can log in and play from any state. You don't have to worry that you are doing anything against the law.
What's more, you can be confident that your details and money are always safe. In fact, as a testament to this operator's commitment to your safety, responsible gaming features are an important part of the setup.
For those that want more control over their money, you can set daily, weekly or monthly deposit limits. In addition to quick-set amounts ($20, $50, $75, and $100), you can specify your own limit.
You can be confident that your details and money are safe at all times when playing on Funzpoints.
Advantages and Disadvantages of Funzpoints
Advantages
Players are offered daily jackpot prizes.
It offers new members a no deposit bonus of $2.50.
The games at Funzpoints run smoothly and effortlessly on both android and IOS enabled devices.
To win amazing cash prizes, a player can either play for free or for real money.
Disadvantages
The Funzpoints casino has not yet developed an app. This is one aspect that made it lag behind other casinos – the New Jersey Funzpoints app.
Other than roulette or blackjack, there are no other casino games.
Position of Funzpoints on Social Casino Market
The social casino industry has a lot of different brands that all have their own things that attract or turn away players. Funzpoints is a new social casino that started in 2019 and has already made a lot of progress. They are known for their contribution to the NJ gaming market and will soon be able to compete with the top brands in the industry such as Chumba and Global Poker.
Funzpoints Review: Conclusion
Funzpoints is an incredible casino with lots of potential. After just two years of storming the industry, they have already made a name. For this very reason, they have become a brand to look out for in the casino world in NJ.
Checking reviews can help you learn about different websites where you can play casino games in New Jersey:
FAQ
Is Funzpoints legal in New Jersey?

Yes, Funzpoints is legal in New Jersey. They make use of sweepstake laws, which accounts for their legal services in every state in the United States. Woopla Inc owns them.
Can I play for real money in Funzpoints casino?

You can play for real money at Funzpoints casino. You can either play in premium mode or standard mode.
Are there any promotions for newcomers on Funzpoints site in New Jersey?

At Funzpoints, newcomers are offered a welcome bonus of $22.50. when the newcomer signs up, his account is credited with $2.50, and as soon as he makes his first deposit, it would be matched 100% up to $20.
How can I contact the Support Department on the Funzpoints site in NJ?

The first support that is needed is to visit the FAQ section of the casino website. Another means of making contact is via mail to [email protected] They are very swift in responding to players.
Who owns Funzpoints?

the Funzpoints casino is an American casino brand that is sponsored, owned, and supported by Woopla Inc.
Written by: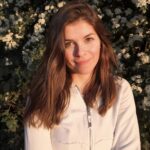 Aria is a hard-working writer and expert in the sports betting industry. She is passionate about helping others make informed decisions about where to bet, and believes that honest reviews and credible information are essential for success.