Guide on How to Bet On Kentucky Derby in NJ
Published: Jan 1, 2023
Updated: Mar 10, 2023
Online betting was legalized in New Jersey back on 11th June 2018. And, ever since the first online bet was made in August 2018, there has been no looking back for the retail sportsbooks in the state of New Jersey. Kentucky Derby, one of the most celebrated horse races of the year, is also a major betting event in the state.
If you are interested on how to bet on Kentucky Derby online in NJ, then you have come to the right place. Here is our New Jersey guide to online Kentucky Derby betting that covers all you need to know about the bets, the sportsbooks, the records, and more. Here's all you need to know about Kentucky Derby betting sites.
Best NJ Kentucky Derby Betting Sites
The Illustrious History of Kentucky Derby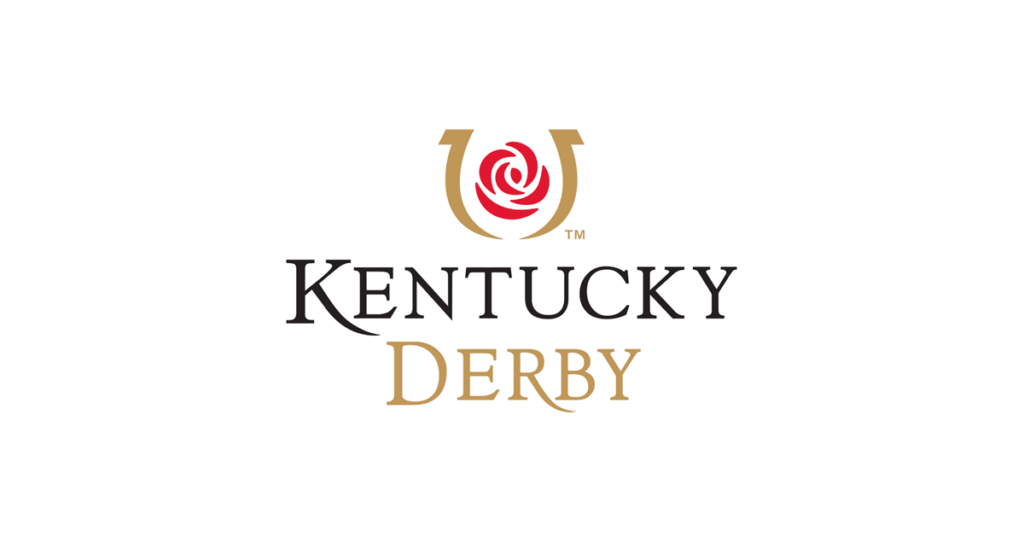 The Kentucky Derby was held for the first time in the year 1875 at the Churchill Downs racetrack in Louisville. It holds the distinction of being the longest-running sports event in the country. The Derby has three-year-old thoroughbreds racing for a distance of 1.25 miles. In all these illustrious years of its journey, along with sports fans, Kentucky Derby has also received quite a few nicknames.
It is known as the 'Run for the Roses' because of the stunning blanket consisting of 564 red roses given to the winner at the end of the races. You would also notice that most Kentucky Derby betting sites and fans also refer to the derby as the 'greatest two minutes in sports.'
On the first Saturday in May at the famous Churchill Downs racetrack, nearly 150,000 spectators gather every year to watch this spectacle. Along with placing a bet on Kentucky Derby, the fans also wear flamboyant hats, drink mint juleps, and sing the famous 'Old Kentucky Home.'
New Jersey Tracks
Monmouth Park is a Thoroughbred racetrack in Oceanport, New Jersey that is also home to the Monmouth Park Sports Book By William Hill.
Meadowlands Racing & Entertainment (Turf only) is a Standardbred racetrack in East Rutherford, New Jersey that is also home to the FanDuel Sportsbook at The Meadowlands.
Meadowlands Racing & Entertainment (Harness Racing) is a Standardbred racetrack in East Rutherford, New Jersey that is also home to the FanDuel Sportsbook at The Meadowlands.
Freehold Racewayis a harness racing trackin Freehold Borough, Monmouth County, New Jerseythat offers live horse racingfrom late October/early November through May. A sportsbook will be coming soon through a partnership between Penn National Gaming and Greenwood Racing
Kentucky Derby Online Bets Explained: Straight, Exotic and More
Before setting your Kentucky Derby betting strategy, you need to understand the types of bets that you can place in this market. But, let's show you the betting format first: "Track name, race number, amount and type of bet, horse number" (Example: Turfway Park, Race 2, $3 to win on horse #2).
Whether you are going for virtual Kentucky derby betting or visiting the actual racetrack, this format remains the same. Since you are betting on horses online, you will put the information in their respective boxes and confirm your bets to get started. Kentucky Derby usually has two main betting categories, namely straight and exotic bets. If you are new to Kentucky Derby betting markets, you'll start with straight bets before moving to the exotic ones. Now, here's your New Jersey guide to online Kentucky Derby betting types.
Straight Bets

Straight bets involve placing your bets on one horse in one race to either finish near the front end of the field or win. Back in the 1950s, at least ninety percent or more bets were straight bets. This number has come down to around thirty percent in the present times. There are three types of straight bets:
Win: You place a bet on a horse to win at the present set of odds.
Place: You bet on a horse to come in the top two positions.
Show: You bet on a horse to come in the top three positions.
Exotic Bets
Exotic bets involve one or more horses in more than one race or multiple horses in one race. The best sports betting sites in New Jersey claim that more than seventy percent of the bets in the present time are exotic bets. The following are the different kinds of exotic bets:
Exacta: Choose the first and second place finishers in the right order.
Trifecta: Choose the first, second, and third place finishers in the right order.
Daily Double: Bet on two horses each to win the first and second race.
Pick 3 / 4: Bet on the winners of three or four consecutive races.
Top NJ Racebooks to Bet on Horses
You will have to use Kentucky Derby NJ betting sites to legally wager on horse futures markets. There are a couple of really popular sportsbooks in NJ when it comes to the Kentucky Derby. Given below is a detailed overview of what to expect from each of these sportsbooks, in terms of sign up bonuses and rewards. These are all options for Kentucky Derby betting in New Jersey, and you can choose any one to go ahead with.
Top NJ Sportsbooks
Sign-up bonus
Other Rewards
Amwager
$500 at the rate of ten percent of all wagers in the first thirty days
$25 betting credit for referring to a friend

Cashback rewards starting at two percent based on the betting amount

Nyra Bets
$200 on using promo code 'SPA' and wagering $200 within thirty days
Kentucky Downs R1 $50 bonus

New bonus offers and promo deals each day

TVG
$300 on using the promo code 'RISKFREE1' and depositing at least $50
Up to $20 cash prize on sweepstakes rewards

$25 betting credit for referring to a friend

Twinspires

(Part of Churchill Downs and the official online betting site of Kentucky Derby)

$100 if you complete $500 wagers in thirty days
$50 referral credit if your friend wagers at least $500 within sixty days

Daily and weekly bonuses and rewards

Membership facilities for added rewards

Xpressbet
$100 with the promo code '100BONUS' and must be used within thirty days
$50 bonus for referring to a friend if they wager at least $100 within thirty days

Cashback offers and bonus points on certain races and tracks

123Bet
50% bonus on betting $1000 within thirty days
Daily and weekly cash rewards

$50 credits for referring a friend (maximum five referrals)

4NJBets
$200 on the first $200 deposit or bet
$25 free bet for every referred friend opening an account

Weekly and daily rewards
Understanding the NJ Kentucky Derby Odds

You need a keen understanding of the Kentucky Derby odds in order to place your bets right. The odds, simply put, refer to the returns you can expect to receive when your chosen horse is successful. The odds get shorter as more money is invested in the horse. The odds are written as 6-1, 8-2, and so on. Take the example of 8-2, it means that for every $2 you invest, you have a chance of getting $8 as a profit. So, the total return on the success of your bet is $10. And, this New Jersey guide to online Kentucky Derby betting will remain incomplete if it doesn't highlight the Kentucky Derby odds 2023 and the odds for the next year.
Kentucky Derby 2022 was the 148th turnout for this mega sports event, and the top five odds for this year were Tiz the Law 4-5, Honor A.P. 8-1, Authentic 9-1, Thousand Words 11-1, and Money Moves 14-1. Finally, Authentic ridden by John Velazquez won the derby this year by finishing before Tiz the Law. It also gave its trainer Bob Baffert his sixth derby victory, but we'll dwell more on the records later. Some of the best Kentucky Derby odds and post positions for 2021 are given as follows:
| | | |
| --- | --- | --- |
| Post position | Horse | Odds |
| 12 | Sole Volante | 30-1 |
| 13 | Attachment Rate | 50-1 |
| 14 | Winning Impression | 50-1 |
| 15 | NY Traffic | 20-1 |
| 16 | Honor A.P. | 5-1 |
| 17 | Tiz the Law | 3-5 |
| 18 | Authentic | 8-1 |
The Trainers And Winners: The Fan Favorites Of Kentucky Derby
Coming to the next part of the New Jersey guide to online Kentucky Derby betting, let's introduce you to some of the fan favorites of the sport. The Kentucky Derby trophy and the amazing blanket of roses are the stuff of dreams for the thoroughbred trainers. Some spend their entire careers hoping to get their horse at that starting gate, while others gain multiple Kentucky Derby wins under their belts. In fact, even a major name in horse racing, Todd Pletcher, has struggled to make his mark in the greatest stage of thoroughbred racing. And, there are trainers like the following, who are held as the finest in the sport.
D Wayne Lukas – Lukas already has four illustrious wins to his name in his long, hall of fame career. He is currently aiming for the six win record of Ben Jones. It might have been fifteen years since his last Kentucky Derby victory in 1999 (Charismatic), but going by the records of the past few years, it seems that Lukas is definitely not done yet.
Bob Baffert – The name Bob Baffert has become synonymous with the Triple Crown for the past twenty years. He has won two times in a row in 1997 (Silver Charm) and 1998 (Real Quiet), and then in 2002 (War Emblem). His greatest victory was secured in 2020 with Authentic, taking his number of wins to a total of six.
Nick Zito – Nick Zito remains a favorite at the Kentucky derby pools in spite of not securing any wins at the Derby for the last ten years. More than his two wins at the Derby, he is the most famous as the Triple Crown spoiler. His Birdstone denied Smarty Jones the trophy in 2004, and Da' Tara did the same over Big Brown in 2008.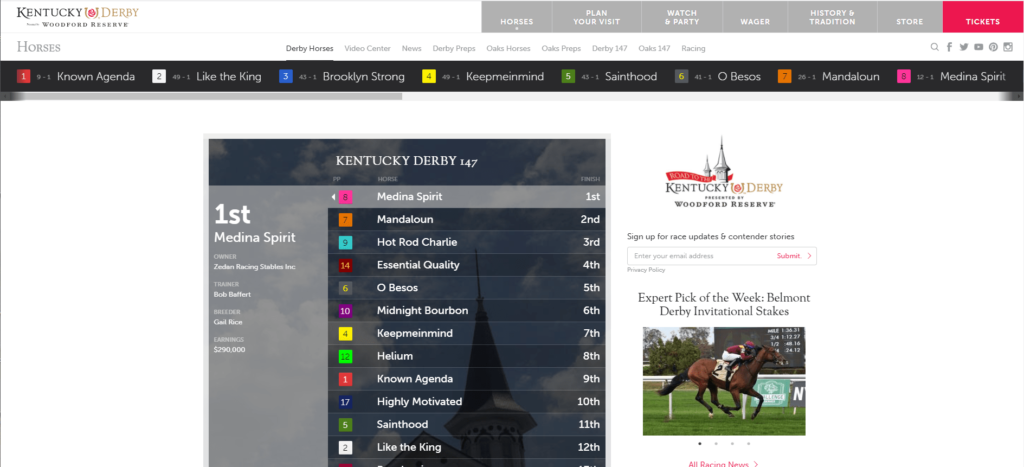 The Remarkable Kentucky Derby Records Of All Times
The tracks of Churchill Downs have seen old records being broken and new ones set quite a few times over the years. The horse odds have been surpassed, and the face of the sport has been changed completely in those two minutes. Out of all the records set in the Kentucky Derby, the following are the ones that remain the most memorable.
The Fastest Wins – Secretariat has the record for the fastest Kentucky Derby win in history at 1:59.4 in 1973. A close second to this record came much later in 2001, when Monarchos won the Derby in 1:59.97.
Margin of Victory – The largest margin of victory for the Derby winner is 8 lengths. It has been reached four times in history: Old Rosebud in 1914, Johnstown in 1939, Whirlaway in 1941, and Assault in 1946.
Most Number of Wins by a Jockey – With five Kentucky Derby trophies under their belt each, jockeys Bill Hartack (1957, 1960, 1962, 1964, and 1969) and Eddie Arcaro (1938, 1941, 1945, 1948, and 1952) are the revered names when it comes to bet on individual horse races.
Most Number of Wins by a Trainer – Ben A. Jones holds the record for the most number of wins by a trainer, with his Kentucky Derby victories in 1938, 1941, 1944, 1948, 1949, and 1952. Bob Rafferty's recent win at 2020 also made him catch up to Ben's record of six Derby wins.
Longest Odds for Winning – The greatest upset in the history of the Kentucky Derby occurred in 1913, when Donerail won with the odds of 91-1.
The Regulations for Bookmakers Sponsorship in Kentucky Derby
Interestingly, for all the betting opportunities offered by Kentucky Derby both on the racetrack and virtually, there are no bookmaker sponsors of the sport. In fact, there are not too many noticeable sponsors of the event, and the ones that are there are all from non-gambling companies. The current sponsors of the game are Woodford Reserve, Longines, and Ford. Unless there are any major changes to sponsorship rules and regulations in Kentucky Derby, it does not seem like any of the prominent bookmakers will be getting their sponsorship deals sealed any time soon.
NJ Kentucky Derby Online Betting Tips
Even as a newbie to in-play horse betting, you can take a couple of steps to make sure that your chances of winning are increased. Since you already know about how the betting tickets look and what the odds are, we'll jump straight to the tips to winning the wagers. This Kentucky Derby betting guide in NJ has four tips that will come in handy while betting in next year's derby.
Be Thorough With Your Homework
Watch the previous games and try to understand the earlier wins and performances. There is no such thing as enough research when you are placing your bets on a mega sports event like Kentucky Derby. However, if you have reached here, we would say you are already doing a good job!
Don't Stick to Only One Kind of Bet
Beginners frequently make the mistake of sticking to only one kind of bet, i.e. bet to win. You should look at other betting options, such as place, exacta, and more, to increase your chances of winning.
Shopping the Odds to Increase Your Chances
After you have selected the horse(s) you want to bet on and the type of bet(s) you want to go ahead with, try to look at a couple of sportsbooks to shop the odds. There might not be too much of a difference in some cases, but it helps to check to increase your profits.
Remember to Keep A Grip on Your Bankroll
It's hard to keep your cool and keep a grip on your bankroll, but you will have to master that if you want to keep betting in the Kentucky Derby. Do not resort to using your checking account time and again only to regret later.
Watch the Kentucky Derby Live in New Jersey at NBC
It is true that nothing beats the excitement of getting a seat at Churchill Downs, and watching the thoroughbreds in action. But, you have nothing to worry if you can't take a trip to Louisville on the day. The live streaming of the Kentucky Derby is carried by NBC. So, that's the channel you need to sit glued to on the day of the Derby. You can also watch the race for free at Twinspires.com, but you will have to register on the website to start watching the game. Both Twinspires and NBC run their parallel live coverage of the game, so you can choose to catch the live action anywhere as per your convenience.
Conclusion
So, with that this New Jersey guide to online Kentucky Derby betting comes to an end. You have all the details you need to place bets successfully at next year's Derby, and hopefully, each year after that. Remember that it's rare to win it all at your very first bets, but you'll have to keep at it. The more you learn about the sport and the more you know the tricks of the trade, the better will be your chances of winning.
Frequently Asked Questions
Is it legal to bet on the Kentucky Derby online in New Jersey?

Online betting and horse betting apps have been made legal in New Jersey since 11th June 2018. So, you can legally place online bets on the Kentucky Derby in New Jersey.
When does the Kentucky Derby start?

The Kentucky Derby usually takes place on a Saturday in May. The time for the races to begin is usually around 6:50 p.m. ET. However, the event was postponed to 5th September this year due to the pandemic.
What is the minimum bet at the Kentucky Derby?

Usually, the minimum wagering amount is 50 cents. You can place all kinds of straight and exotic bets in the Kentucky Derby.
Has a female horse ever won the Kentucky Derby?

Only three female horses have ever won the Kentucky Derby. Winning Colors (1988), Genuine Risk (1980) and Regret (1915) are the fillies to win the Derby. Genuine Risk and Winning Colors have participated in all the Triple Crown races.
What horse was put down at the Kentucky Derby?

Belles had broken down at a furlong after the wire in 2008. Due to the nature of her injuries, which involved compound fractures in both her front ankles, she was immediately euthanized.
What is the best site to place a bet on the Kentucky Derby in NJ?

Twinspires.com is the official betting partner of the Kentucky Derby. However, you can also check out other popular sites like Amwager, Nyra Bets, TVG, Xpressbet, 123Bet, and 4NJBets.
Written by: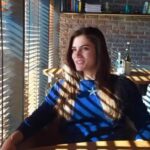 Author, Contributor, Law Expert at Luckynj.com. Karen is our writer and contributor who tells you the latest news and trends in gambling industry that take place in the United States.